During US Olympic Trials, the SwimSwam team did the heavy lift, all of the hard work.
I spent nearly the entire time with Debbie Hesse at the USA Swimming Foundation helping to organize the USA National Team Alumni Reunion. It was work, but a whole lot more fun than work.
In Omaha over 136 Olympians, World Champions, Pan Am, Pac Pacific and WUG  team members assembled to support the new crop of Olympic swimmers and party. We had Olympians from the 1948 Games to the 2004 Games in the house!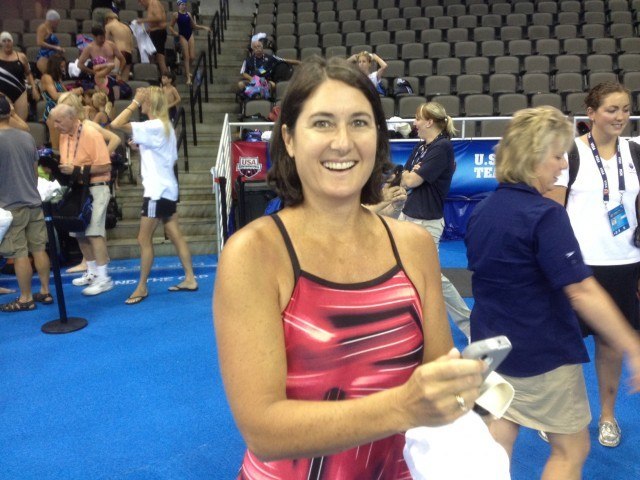 (photo: Olympic icon Mary T. Meagher, now Mary Plant)
It was a very good time seeing old faces like Pablo Morales, Summer Sanders, Katrina Radke, Bobby Hackett, Misty Hyman, Dave Wharton, Mary T. Meagher, Roque Santos, Gary Hall Sr., John Naber, and many, many more!
The big event for the USA National Team Alumni was the Paddle in the"Omaha" Pool with Pablo Morales. Pablo is probably the nicest guy in swimming and the perfect host for a pool party. I didn't have a lot of time to produce an elaborate video, so I just GoPro-ed my head and hit record. Look for Ryan Lochte, who stopped by to say hi to the old guys.
The next USA National Team Alumni social will probably be at the 2013 Women's DI NCAA Swimming and Diving Championships. Stay tuned…