The 7th annual Autumn National Meet in Compiègne, France, was supposed to mark the return of French backstroker Camille Lacourt, who has been absent from the French swimming scene since the French national long course championships last April.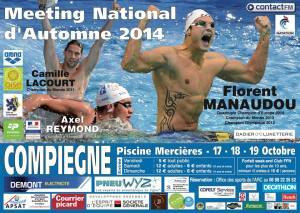 His coach at Cercle des Nageurs de Marseille (CNM) Romain Barnier had announced Lacourt's presence at Compiègne in a press conference on September 18. Within a week the meet organizers had updated their marketing materials, adding Lacourt's image to the meet posters.
Over the weekend, however, it was announced that Lacourt, who has been sidelined with a hip injury that led him to pull out of all of the big meets this summer, is still in too much pain to swim. Lacourt had been scheduled to participate in several stages of Mare Nostrum, the French Open at Vichy in July, and the European Championships in Berlin, all of which he scratched.
The good news for meet organizers is that Florent Manaudou, Lacourt's teammate at CNM, confirmed he will be in Compiègne to kick off his 2014-15 season.
According to the hosting club (Jeunesse Natation Compiègne 60)'s Facebook page, other entrants in the meet include: Anthony Pannier (French champion in the men's 800 free), Coralie Codevelle (ninth place in the women's 10k at Euros), Great Britain's Liam Tancock, Adam Barrett, and Fran Halsall, as well as the Turkish national team.