Fike Swim is thrilled to announce the addition of 2017 World Championships Qualifier and USA National Team member Sarah Gibson to its team of brand ambassadors. A former Texas A&M standout in the pool and in the classroom, Sarah achieved individual SEC titles 5 times and All-American status 15 times while earning a 4.0 in Biomedical Engineering. As a professional swimmer, she is now one of Team USA's top butterfliers in all three events- 50, 100, and 200.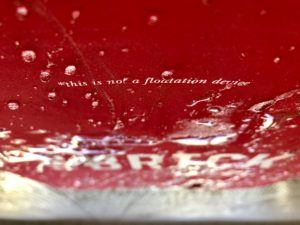 "I am deeply honored to become an ambassador for Fike Swim. I was introduced to The Brick while visiting a club team near my relatives, and it was love at first kick set. Such ingenious designs intrigue intellectually as they challenge physically, providing a perfect blend for swimmers in general, and myself in particular," said Sarah.
Sarah is currently training under David Marsh at Team Elite's west coast site in San Diego, CA, preparing for the 2018 U.S. Nationals, 2018 Pan Pacific Championships and ultimately Tokyo 2020. While there, she will also be conducting medical research at the University of California San Diego as well as helping Fike Swim test and roll out more of the innovative products it is becoming known for.
"Sarah is the perfect addition to our team. Extraordinary work ethic, intelligence, and potential seem to be common traits in our group. She's capable of being the next dominant butterflier, from 50 to 200, and I can't wait to see what the next two years bring for her!" added Fike Swim founder James Fike.
You can support Sarah on her journey to Tokyo by following her Instagram and Facebook pages, and you can get the latest Fike Swim news, product updates, and videos by liking them on Facebook and subscribing to their YouTube channel. And you can get a candid look at Fike Swim's journey to help swimmers SWIM DIFFERENT by following them on Instagram.
About Sarah Gibson
Here's a short Q&A with Sarah. The complete Q&A with post-workout meals, season and practice goals, and more can be found by visiting Fike Swim's ambassador profile page.
Q: What is your favorite event?
A: "My favorite event is the 200 butterfly. I know, sounds a bit crazy, but bear with me here. I started swimming the 200 fly the summer after my sophomore year of college because I wanted to swim something other than the mile at NCAAs. It's always been something I personally chose to do, instead of feeling obligated or forced by my coaches, so it gives me agency. The bit where other people think you're hardcore is a plus, too."
Q: How many yards per week do you usually swim?
A: "48,000-55,000, depending on the time of year and my out-of-water training schedule."
Q: What is one of your favorite sets?
A: "My all-time favorite kick set:
3 x [ 4 x 50s @ 1:00, +10s rest then
[200 negative split, desc. by round
For the 200s, I aim to start around 2:50 and work down to 2:30. Some days that's doable, others… well, it's the intent that counts, right?"
Q: How did you get into swimming?
A: "I remember driving by the neighborhood pool on Monday nights, when it was set up for summer league duel meets, and asking my parents what was going on. They told me it was competitive swimming and asked me if I'd like to try it out. I said sure, but soon found out swimming took a lot of work! I tried to quit, but my parents insisted I finished the season. "Mom, Dad," I complained in exasperation, "I can't even get across the pool by myself." "Well, you won't with that attitude," my dad replied. "And after one long summer of fears and tears, I quickly found out I was at home in the water."
Q: What is something most people probably don't know about you?
A: "I was diagnosed with congenital heart disease during my sophomore year of college. The first cardiologist I saw wanted me to stop swimming, but I found doctors willing to let me give it a try. A few weeks after my diagnosis, I qualified for Olympic Trials for the first time."
Q: What do you enjoy most about doing swim clinics?
A: "My success as a swimmer is not based on natural gifts. I struggled to get where I am today. And I love sharing that message of success based on hard work and perseverance with developing swimmers of all ages. And in working with all ages I get to relive each stage in my own development, rediscover the joy of swimming before it was a career, and hopefully help them avoid mistakes I made. When kids walk away from my clinics I hope they take those messages with them and understand that anything is possible with enough determination and enough curiosity to keep questioning the status quo."


About Fike Swim
"We design products exclusively for the most difficult sport in the world.  We unapologetically place swimmers on a pedestal.  The rigors they embrace on a daily basis can only be understood by another swimmer and they deserve a company focused 100% on helping them succeed.  Whether you're just starting out or training for Tokyo, we stand behind you."
-James Fike, Founder
Fike Swim Products was born when founder James Fike put a brick on top of a kickboard and transformed just another legs-only kick set into a total body workout felt into the next day. Since then it's been our mission to create unique swim equipment with the single-minded goal of making you faster. We don't sell toys. We create tools to help you reach your potential.
Swimming Industry News is courtesy of Fike Swim, a SwimSwam partner.