2021 FINA WORLD CUP STOP #2 – BUDAPEST
Thursday, October 7th – Saturday, October 9th
Duna Arena, Budapest, Hungary
SCM (25m)
As if 27-year-old Emma McKeon hadn't already made her presence known across the first two stops of the FINA World Cup Series, the Aussie topped off off her Budapest campaign with a big-time World Cup Record.
Touching the wall in a time of 50.58 to take the top prize in the women's 100m freestyle final, McKeon matched the longstanding WC Record of the same time that's been on the books since Swedish Sarah Sjostrom put it there in 2017.
McKeon opened her wicked-quick race in a front half of 24.55 before bringing it home in 26.03, wrangling up the best time of her career in the process. For comparison, Sjostom's 50.58 was comprised of 24.49/26.09.
Entering this 2nd World Cup stop, multi-Olympic gold medalist McKeon owned a lifetime best of 50.96, a mark she produced just last week in Berlin. Prior to that escapade, McKeon had never been under 51, holding a PB of 51.02 from 2 years ago in the ISL.
However, her time here night now ties Sjostrom as the 2nd fastest swimmer ever in this SCM 100 free event, sitting only behind fellow Aussie Cate Campbell's World Record of 50.25 from 2017.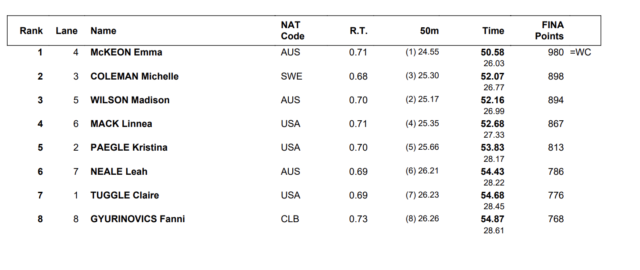 All told, here are McKeon's performances across the first 2 stops:
| | | | |
| --- | --- | --- | --- |
| | Event | Time | Place |
| Berlin | 50 Free | 23.56 | 1 |
| | 100 Free | 50.96 | 1 |
| | 50 Fly | 25.10 | 2 |
| | | | |
| Budapest | 50 Free | 23.50 | 1 |
| | 100 Free | 50.58 | 1 |
| | 50 Fly | 24.97 | 1 |