This article originally appeared in the 2022 Year In Review edition of SwimSwam Magazine. Subscribe here to the SwimSwam Magazine here.
During 2022, two teenagers impressed the world of swimming with their amazing performances.
Canadian Summer McIntosh and Romanian David Popovici already had made a statement in 2021. McIntosh, a 14-year-old girl then, reached the final in the women's 400 freestyle at the Tokyo Olympics and almost medaled by finishing in fourth place. Popovici, then 16, also almost medaled in the men's 200 freestyle.
In 2022, they became superstars of swimming. At 15, Summer McIntosh won the 200 butterfly and the 400 IM during the World Championships in Budapest, becoming the youngest swimmer to win two individual events since American Tracy Caulkins in 1978. She also won two gold medals in individual events during the Commonwealth Games in Birmingham.
David Popovici, 17, also won two events at the World Championships, 100 and 200 freestyle. Since 1975, when Americans Andy Coan and Tim Shaw won those events in Cali, no man under 18 had won the 100 and 200 free at World Championships. Not only that, he broke long-standing Cesar Cielo's world record from 2009 in the 100 freestyle during the European Championships in Rome.
So, what's happening in the world of swimming? After all, in the last two decades, we have been seeing swimmers staying at the top of their game for a long time and keep medaling into their 30s – which was previously very rare.
The fastest swimmers are getting older
A prime example of that is Brazilian Nicholas Santos. At 42, he became the oldest medal winner in the history of World Championships by winning a silver medal in the men's 50 butterfly in Budapest. He owns four medals in the event in long course meters, and another four in short course meters, and all of them were won when he had passed 30 years of age. He is truly a phenomenon, but he is not alone as a decorated 30-something swimmer. The 10 oldest swimmers who have won medals in individual events at World Aquatics Championships — all of them over 32 years old — reached the podium starting from the year 2000. And eight of them won medals after 2010, which is an indicator that the age of elite swimmers is increasing.
The graph below shows the average age, by year, of all swimmers who have made the top 10 in world rankings in long course meters since 2001.

It is pretty clear that the average age of the fastest swimmers in the world is indeed increasing. In 2001, the average age for men was 22.7 years and for women 20.5. In 2022, it was 23.8 and 22.4, respectively.
The following table shows the average age of the top 10 swimmers by event in 2022.
| | | |
| --- | --- | --- |
| Event | Men | Women |
| 50 Freestyle | 25.6 | 23.1 |
| 100 Freestyle | 22.1 | 22.9 |
| 200 Freestyle | 21.9 | 22.2 |
| 400 Freestyle | 22.5 | 21.4 |
| 800 Freestyle | 23.8 | 21.8 |
| 1500 Freestyle | 24.2 | 22.8 |
| 50 Butterfly | 27.1 | 23.7 |
| 100 Butterfly | 23.0 | 23.5 |
| 200 Butterfly | 22.0 | 21.1 |
| 50 Backstroke | 21.8 | 22.9 |
| 100 Backstroke | 23.6 | 21.7 |
| 200 Backstroke | 22.5 | 21.4 |
| 50 Breaststroke | 27.8 | 21.2 |
| 100 Breaststroke | 25.8 | 23.4 |
| 200 Breaststroke | 25.0 | 24.3 |
| 200 Medley | 22.8 | 21.8 |
| 400 Medley | 23.3 | 22.3 |
| Overall Average | 23.8 | 22.4 |
How can we explain the success of teenagers like Summer McIntosh and David Popovici in a sport dominated by grown-ups?
Actually, we can see that the average age in 2022 decreased in comparison to 2021 (24.2 for men and 23.2 for women). It might be just a random fluctuation. But it also can be explained by some great performances of swimmers like McIntosh, Popovici, Katie Grimes (16), Lorenzo Galossi (16), Ksawery Masiuk (17), and Lana Pudar (16) — all of them already winning medals at senior international meets.
The overall trend is the increasing age of many top world swimmers. But if we look closer at some events, we can identify some very interesting patterns.
Teenagers are changing the game
For example, take a look at the graph of the average age of the 10 fastest swimmers in the world by year in the men's 100 freestyle. Actually, the average age is decreasing.  In 2010, the average age was more than 26 years, and now it is 22.1 years. Seventeen-year-old Popovici is surely responsible for this decrease, but he's not alone. After all, in 2022, we have another 17-year-old among the top 10, Pan Zhanle from China, and 19-year-old Joshua Liendo from Canada.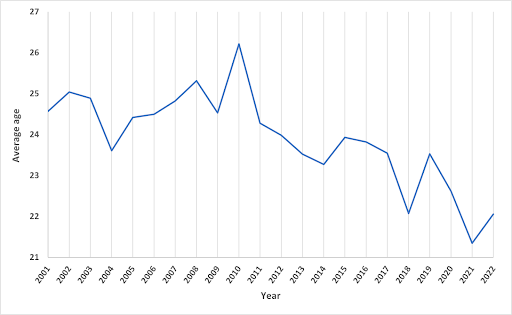 The trend observed in the men's 100 freestyle is atypical. And raises the question: Why have we been seeing more and more teenagers swimming fast in this specific event? And it is a sprint event. More mature athletes tend to be the top swimmers in sprint events. That's why this trend is so interesting.
For example, in the following graph of the men's 400 IM we have the general pattern of most of the individual events: an increasing trend in the average age of the fastest swimmers in the world.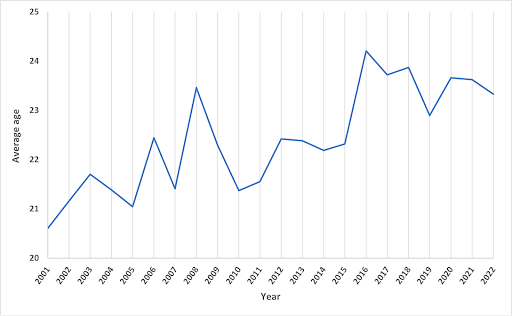 Another interesting trend can be seen in the women's 400 IM in the graph below. Here we also have a clear increasing pattern, even more than in other events.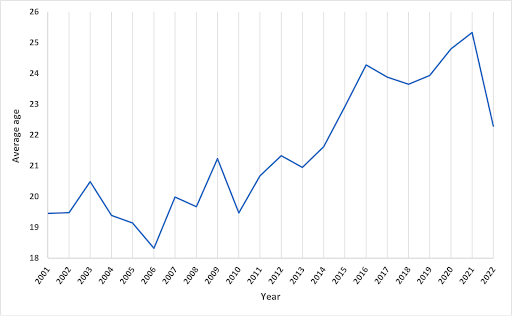 In the last few years, swimmers like Katinka Hosszu, Mireia Belmonte, Hali Flickinger, Leah Smith and Melanie Margalis — all of them around 30 years of age or more — took the average age of the top in the event very high. But in 2022 15-year-old Summer McIntosh and Ageha Tanigawa from Japan, and 16-year-old Katie Grimes from the U.S. set very fast times and took down the average age.
We've known for a while that swimmers, or at least the best ones, are getting older and peaking later. Nicholas Santos is 42 and still at his peak. But it seems that there will always be room for some phenomenal teenagers. Some thought that we would never see swimmers like Ian Thorpe and Michael Phelps again, who were among the best in the world at 16-17, or even a 15-year-old girl winning international titles like Katie Ledecky and Ruta Meylutite did 10 years ago. David Popovici and Summer McIntosh are there to prove them wrong.