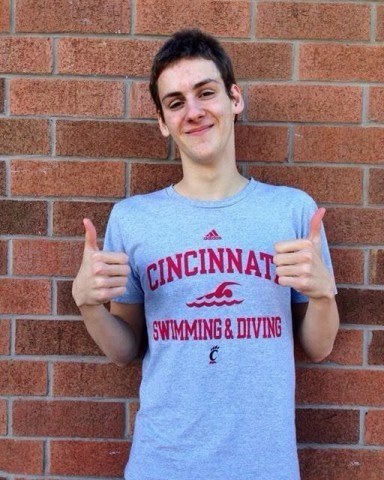 For more commitment articles, be sure to check out SwimSwam's College Recruiting channel.
Din Selmanovic of the Etobicoke Swim Club near Toronto, Canada has verbally committed to swim for the University of Cincinnati in the NCAA next fall.
He will join his older sister, breaststroker Enna Selmanovic, who is currently a freshman for the Bearcats.
Unlike his sister, Din Selmanovic is more of a distance freestyler. In long course (which to date is where his best times have been), his bests are:
200m free – 1:54.59 (1:40.35 conversion)
400m free – 4:03.22 (4:32 conversion to 500y free)
800m free – 8:20.07 (9:20.30 conversion to 1000y free)
1500m free – 15:50.54 (15:31.90 conversion to 1650y free)
400 IM – 4:32.85 (4:00.04 conversion to 400y IM)
Last season, the Cincinnati men had an exceedingly young lineup. Their top performer in each individual event last season was either a freshman or a sophomore, and more specifically, the freestyle events were all topped by collegiate rookies.
That means that when Selmanovic arrives on campus in the fall of 2016, he'll join a much more veteran training group that will include Eitan Holder and Chris Bready.
Both of the above-mentioned swimmers made huge improvements coming in as freshmen. Looking at Bready specifically, who is a more analogous comparison for Selmanovic in tending toward the 500 yard free and up, he dropped 6 seconds in his 500 free and 13 seconds in his mile in his first college season, and in the team's first intercollegiate meet against Indiana had more big swims including a lifetime best in the 1000 free (9:17).
While the Bearcats had a good distance program in the 1970's through the turn of the century, since then it had been in somewhat of a lull. The three swimmers mentioned above, however, are revitalizing that group and making it once again a hallmark of the program.
If you have a commitment to report, please send an email to [email protected].