2018 COMMONWEALTH GAMES
Thursday, April 5th – Tuesday, April 10th (swimming)
Optus Aquatic Centre, Gold Coast, Australia
Prelims at 10:30am local (8:30pm previous night EDT)
Finals at 7:30pm local (5:30am EDT)
As exciting as the 2018 Commonwealth Games are in their own right, the competition serves as a selection meet for Swimming Australia's Pan Pacific Championships squad. Per the qualification criteria,the first, second and third placed eligible athletes in the final of an individual Olympic event at the Commonwealth Games will be selected to the Pan Pacific team, subject to the time that they swim in the final equalling or beating the QTs listed in the specific appendix. Athletes meeting this criteria will be considered a 'Priority 1 athlete.'
You can view the table of qualification times below. The 2018 Pan Pacific Championships are slated for August 23rd – August 28th in Tokyo, Japan.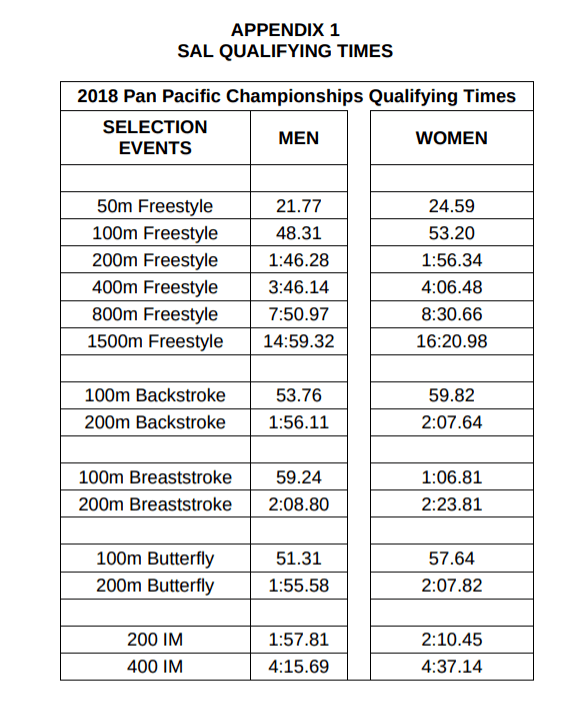 As such, throughout the Commonwealth Games we'll be keeping a Pan Pacific Championships Australian team tracker, just to keep a running list of those highest placed Aussies having clocked QTs this week. Here's how the squad shapes up thus far, knowing swimmers may opt out of swimming the event and/or additional swimmers may be added at coaches' discretion.
Day 5 Qualifiers:
Men's 100m fly – None
Men's 200m back – Mitch Larkin (1:56.10)
Women's 100m breast – None
Women's 100m free – Bronte Campbell (52.27), Cate Campbell (52.69)
Women's 200m fly – Laura Taylor (2:07.39)
Women's 800m free – Ariarne Titmus (8:20.02), Jess Ashwood (8:27.60), Kiah Melverton (8:28.59)Swimming Australia, Ltd.
Day 4 Qualifiers:
Women's 200m back – Emily Seebohm (2:06.82)
Men's 100m free – Kyle Chalmers (48.15)
Women's 200m IM  – None
Day 3 Qualifiers:
Men's 200m fly – None
Women's 50m free – Cate Campbell (23.78), Bronte Campbell (24.26), Shayna Jack (24.57)
Men's 100m breast – None
Women's 100m back – Emily Seebohm (58.66)
Women's 200m breast – None
Day 2 Qualifiers:
Men's 200m free – Kyle Chalmers (1:45.56), Mack Horton (1:45.89)
Men's 400m IM – Clyde Lewis (4:13.12)
Women's 100m fly – Emma McKeon (56.78), Maddie Groves (57.19), Brianna Throssell (57.30)
Men's 100m back – Mitch Larkin (53.18)
Day 1 Qualifiers:
Women's 400m IM – None
Men's 400m freestyle – Mack Horton (3:43.76), Jack McLoughlin (3:45.21)
Women's 200m freestyle – Ariarne Titmus (1:54.85), Emma McKeon (1:56.26)
Men's 200m breaststroke – Matt Wilson (2:08.64)