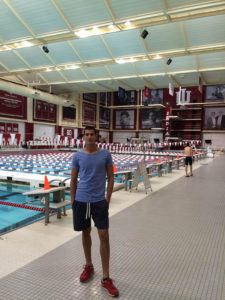 The Indiana Hoosiers will bring in a another new addition to their sprint group next season, as Croatian sprinter Nikola Miljenic has verbally committed to join the IU men.
Miljenic has represented Croatia as a member of their Junior National team, swimming at high-level international meets such as the 2015 FINA Junior World Championships and the 2016 LEN European Junior Championships.
On his commitment:
"I am really proud to join such a growing team. I trust my coaches that they can lead me to my ultimate goal: to medal in Tokyo 2020. It is even more important to have the opportunity to get an excellent education at Indiana University and to achieve my academic goals."
At 2015 Junior Worlds, Miljenic competed in the 50 free and 50 fly, placing in the top 30 of both events. This past summer, he earned a 4th place finish in the 50 free at European Juniors, clocking a personal best 22.48.
Miljenic becomes the 2nd Croatian swimmer to join IU's recruiting class. The Hoosiers have also received a verbal commitment from Bruno Blaskovic, a 22.2 50 LCM freestyler.
Miljenic's Top Times:
| | | |
| --- | --- | --- |
| Event | Best time (LCM) | Conversion |
| 50 free | 22.48 | 19.53 |
| 100 free | 50.89 | 44.40 |
| 100 fly | 58.11 | 51.09 |
Though Miljenic hasn't competed in short course yard yet, his time conversions bode well for the Hoosiers. His 50 free converts to a 19.53, which would've been fast enough to make the A-final at last season's Big Ten Championships.
At Indiana, Miljenic will join a sprint group that includes Blake Pieroni and Ali Khalafalla, who swam in the 2016 Rio Olympics for the USA and Egypt, respectively. Last season, Pieroni was the Big Ten champion in the 100 and 200 freestyles, while Khalafalla was the runner-up in the 50 free.
Pieroni went on to achieve All-American status at the NCAA Championships, placing in the top 8 of the 200 free and getting 10th in the 100 free. Khalafalla was also a scorer there, making the B-final of the 50 free.
AB