Courtesy of Nate Boyle, CEO of LemonAid, a social sharing & messaging app designed to grow college swimming.
I enjoyed and played almost every sport growing up, but swimming resonated with me. Perhaps it coincided with an inability to hit the curve? Or maybe growing up in Texas if Friday night lights didn't grab you, the summer league swim team would?
And like many young athletes, I dreamed of college and professional sports because the world I knew was simultaneously limitless and infinitesimal. In our backyards, neighborhoods, and summer league pools we are all potential Olympians acting out the heroics we just witnessed in our living rooms. So I worked at it. And each year I could see incremental gains and goals achieved.
By high school, the world somehow had grown larger and the backyard had shrunk overnight.  I was good, but by no means great. But thanks to a friend from the club ranks and an SI story about a world champion 50 freestyler that had a penchant for Cici's buffet, I stumbled upon Auburn University. Months later, the man who would arguably become the greatest college swim coach ever and undoubtedly its best recruiter, offered me a spot on the team, a guarantee that I would swim the 500 (man I still loathe that race), and a 'books' scholarship. I leapt at it.
Now a young man from the DC area, it took tiny Auburn, Alabama to introduce me to the world. Auburn was the United Nations of swimming, and despite quite varied backgrounds, everyone had a similar interest in becoming the best. Team and accountability were passionately palpable because the greatest coach I've ever met decided swimmers were more interesting than being described by Jim Nantz, "as the most exciting player in college football…Bryan Karkoska".
Nearly a generation has come and gone since we won the 1999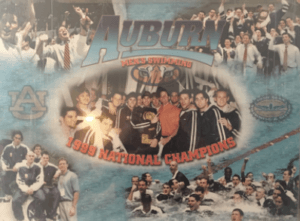 NCAA Championship training alongside a small group of 'professional swimmers'.  What I learned then and grow with now is:
Find Purpose in Something Greater than Yourself
Chances are high you've directly or indirectly come across one or more of my teammates because 15/20 athletes at one point or another coached swimming. 13/20 at the collegiate level…from GAs to NCAA Head Coaches. Including the current Auburn Head Coach. Only two weeks ago, the second of the five greatest coaches I've ever been around became the head coach at Wyoming.
The staff all went on to become head coaches at places like Texas, LSU, and the USA Paralympic Team.
Results are Outside of our Direct Control
Legend has it that the only man who might have prevented Phelps' thunderous march to 8 golds in a single games hates broccoli and lobbied extensively on deaf ears for AU great Fred Bousquet to anchor the French relay. Whichever side of revisionist Olympic history you find more intriguing – Fred undoubtedly would have used his extensive collegiate relay experience to move far away from Team USA to mitigate any potential drafting. Results are a confluence of a great many pieces converging.
But Results are Indirectly Influenced by every Interaction
Last weekend I got to catch up with number three on my list of top five coaches. 85 and sunny at the beach for a workout with SCAD, I smiled at how lucky this next generation of students athletes are to be able to go 1:34, win championships and find internships at Pixar. To summarize Bill with words is to do an injustice to his methodical, unconventional, and competitive spirit..so check out a little 360VR inside LemonAid for just a little bit of what makes him according to one of his swimmers, "The best coach I've ever had".
My best friends and most trusted colleagues either swam or played college sports. I have three wonderfully unique siblings, an MFA, an MA in Education, and a former navy seal with an MBA.  All swam in college. I first met my wife at a club practice when we were both home on holiday (full disclosure – I didn't stay for the water portion). And the two very important young athlete dreamers in my backyard now look to me for guidance.
Me? I've worked at USA Swimming, swum on the National Team, coached Olympians and age groupers, have a Masters in Kines, and the most amazing memories one can enjoy in our sport. Sharing the college sports experience with more is what I am meant to do. LemonAid exists because we believe there are more athletes, educators, coaches, and parents that share similar experiences and perspectives. Simply passionately curious about their potential reach.




Courtesy of LemonAid, a SwimSwam ad partner.