This week's BSN Sports Swim Team of the Week is the University of Pittsburgh Panthers, one of several teams on the rise in an increasingly-competitive Atlantic Coast Conference.
The Panthers are led by head coach John Hargis, whose coaching resume including stints as the head coach at Penn State and associate head coach at Auburn, his alma mata. While swimming at Auburn, he was a 12-time All-American and won a gold medal as part of the USA's 4×100 medley relay at the 1996 Olympics.
Hargis became Pitt's head coach in the summer of 2016, and since then the Panthers have almost completely re-written the team record book. International students like Samy Helmbacher (France), Shahar Menahem (Israel), and Eben Vorster (South Africa) have represented their countries on the international stage, and on the NCAA level, junior Blaise Vera currently has the #2 50 free time in Division I swimming.
We spoke with Hargis to get his take on what makes Pitt so special, as well as some of his thoughts on coaching in general.
Asked to describe his coaching philosophy in one sentence, Hargis described it as…
From a training standpoint, we're a quality, intensity-based program; overall, the philosophy of the program is to have the student-athletes truly take ownership of their athletic and academic lives to maximize their college experience and reach their full potential.
Pitt is consistently ranked as one of top public universities in the country, and the kind of students that Pitt attracts is one of the things that Hargis sees as special about the Panthers.
The people associated with our program and the athletes on this team are what make it so special. We have academically driven individuals who do very well in the classroom and embrace working hard. That adds to the culture and chemistry of our entire program. When we recruit, we strive to bring student-athletes to Pitt who want to excel academically and athletically – both individually and as a team – while competing at a high level in the ACC.
But Hargis and the rest of the coaching staff have their sights set on more than just academic and athletic success, and they also strive to foster an environment that helps athletes develop as leaders, in and out of the pool.
It begins with creating a program culture that allows our athletes to take ownership of their collegiate experience. At the University of Pittsburgh, we have the best Life Skills department in the country. They offer all of our student-athletes career counseling, business etiquette training, résumé building, interview preparation, internship opportunities and so many other programs that help Pitt athletes secure a great job, excel professionally and move into leadership roles in whatever career that they choose. So we encourage our athletes to utilize everything that the Life Skills department at Pitt has to offer.
Hargis has seen high-level success both as an athlete and as a coach, something he wants to replicate with Pitt.
I want success now, so having patience would be my biggest struggle. We're working really hard to build this program into one that can compete for championships in the ACC and at NCAAs while producing athletes that represent their respective country at international meets. We're making great progress, but the process takes time, of course.
With roughly two decades of coaching experience under his belt, Hargis has plenty of memories to look back on, but when asked to identify his favorite memory, he emphasized the kinds of memories he rememberers, rather than one specific one.
The smiles are what I remember the most. As a coach, seeing an athlete smile after winning a race or setting a record and seeing them smile again on their graduation day is such an incredible feeling. Collegiate swimming and diving is a team sport culminating in individual performances that boost the entire group. These athletes work so hard, so my greatest memories come from watching individuals succeed and the entire team celebrating that success because they recognize how much time and effort went into it. Those are truly great moments that everyone can enjoy together.
ABOUT BSN SPORTS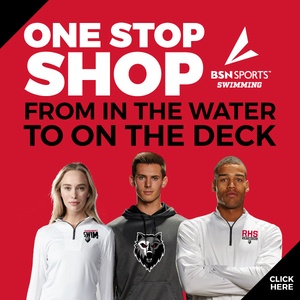 Founded in 1972 as a factory-direct equipment company, today BSN SPORTS is the largest distributor of team sports apparel and equipment in the United States, with over 3,000 employees across 80 regional offices. At BSN SPORTS we believe that sports have the power to change lives. At the heart of what makes sports happen are the coaches, teachers and mentors who work with young and old alike to build meaningful lifelong experiences. That's why our mission is simple. The more time we save coaches with everything they do off the deck, the more time they can spend changing lives. And that's the real final score.
Get your swimmers in custom team gear with your team's logo. My Team shop provides a one-stop-shop solution to custom apparel, suits, footwear, equipment and accessories. It's simple to setup and the My Team Shop platform can even serve as a fundraising solution to earn dollars for your program. To set one up today email us at [email protected] or call 1-877-217-9027.
To learn more about BSN sports visit us at www.bsnsports.com/ib/swimming.
BSN SPORTS SWIMMING ON Instagram – @bsn_swimming