Disclaimer: BlueSeventy Swim of the Week is not meant to be a conclusive selection of the best overall swim of the week, but rather one Featured Swim to be explored in deeper detail. The BlueSeventy Swim is an opportunity to take a closer look at the context of one of the many fast swims this week, perhaps a swim that slipped through the cracks as others grabbed the headlines, or a race we didn't get to examine as closely in the flood of weekly meets.
As the 2016 Olympic season nears, the Arena Pro Swim Series is getting flooded with big names. Phelps, Lochte, Ledecky, Franklin – there were almost too many great swimmers competing in Minneapolis to catch every big swim.
One name that flew under the radar is a name to keep an eye on: Tierney. As in Sam Tierney, the recent Missouri grad who won the 100 breast over a loaded field.
Tierney was a breakout collegiate star at Mizzou, and now seems to be on the cusp of transferring that breakout status to the long course pool. Tierney hit a new lifetime-best of 1:00.82 in Minneapolis, taking three tenths off his time from last summer's U.S. Nationals.
Even more exciting than that? Prior to April of 2015, Tierney's best time in the 100 meter breaststroke was just 1:03.22. That's 2.4 seconds dropped in just 8 months.
In Minneapolis, Tierney beat a host of former U.S. National champs (Cody Miller and Andrew Wilson among them) as well as international powers like Carlos Claverie and Felipe Lima.
If he can continue his rocketing career improvement curve for the next 7 months leading up to the U.S. Olympic Trials, Tierney could be a major contender in a suddenly-crowded U.S. breaststroking field.
Aptly named to suggest 70% of the earth is covered in water, blueseventy is the world leader in the pool, triathlon and open water wetsuits and swimskins. Since 1993, we design, test, refine and craft products using superior materials and revolutionary details that equate to comfort, freedom from restriction and ultimately a competitive advantage in the water. blueseventy products have instilled confidence in beginners as well as carried world-class athletes to countless Olympic and World victories.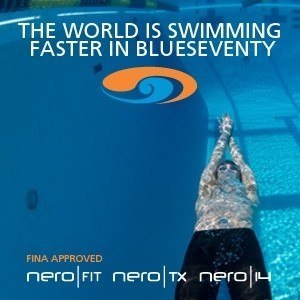 For the latest news and blogs from blueseventy visit www.blueseventy.com.
Twitter: @blueseventy 
Facebook: facebook.com/blueseventy
 Blueseventy is a SwimSwam partner.