Disclaimer: BlueSeventy Swim of the Week is not meant to be a conclusive selection of the best overall swim of the week, but rather one Featured Swim to be explored in deeper detail. The BlueSeventy Swim is an opportunity to take a closer look at the context of one of the many fast swims this week, perhaps a swim that slipped through the cracks as others grabbed the headlines, or a race we didn't get to examine as closely in the flood of weekly meets.
Many swimmers take considerable time off following an Olympic meet. Katie Meili is bucking that trend.
Many Olympic-level breaststrokers struggle to be internationally relevant in any other stroke. Meili is tearing up that stereotype, too.
In fact, Meili, as much as anyone else on the planet, is taking full advantage of the dreaded post-Olympic lull, turning a busy event schedule into more than $20,000 in winnings on the World Cup tour.
The World Cup isn't a tour for the faint of heart. The first cluster spanned 10 days in total: 6 of them were full to the brim with morning and afternoon competition, with a pair of two-day blocks in the middle to travel, first from Paris to Berlin, then from Berlin to Moscow.
Within those 10 days, Meili swam to 11 individual World Cup medals, more than all but 3 other women on the tour:
Most individual medals on 2016 World Cup:
Katinka Hosszu – 33
Emily Seebohm – 14
Jeanette Ottesen – 12
Katie Meili – 11
Yulia Efimova – 11
Most recently in Moscow, Meili took three individual silvers and a bronze, plus a pair of relay medals. Her Moscow haul:
100 breast SILVER
50 free SILVER
50 breast SILVER
100 IM BRONZE
4×50 medley relay SILVER
4×50 free relay BRONZE
Her best individual swim was a 1:03.36 in the 100 breast that came within a half-second of her own American record.
The combination of those medal points and two appearances in the World Cup performance bonus top 3 lists have Meili sitting 6th in total women's World Cup points and 5th in total money earned at $20,750.
For a post-Olympic "lull," that's not half bad.
Aptly named to suggest 70% of the earth is covered in water, blueseventy is the world leader in the pool, triathlon and open water wetsuits and swimskins. Since 1993, we design, test, refine and craft products using superior materials and revolutionary details that equate to comfort, freedom from restriction and ultimately a competitive advantage in the water. blueseventy products have instilled confidence in beginners as well as carried world-class athletes to countless Olympic and World victories.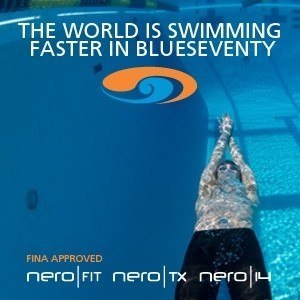 For the latest news and blogs from blueseventy visit www.blueseventy.com.
Twitter: @blueseventy 
Facebook: facebook.com/blueseventy
 Blueseventy is a SwimSwam partner.