Disclaimer: BlueSeventy Swim of the Week is not meant to be a conclusive selection of the best overall swim of the week, but rather one Featured Swim to be explored in deeper detail. The BlueSeventy Swim is an opportunity to take a closer look at the context of one of the many fast swims this week, perhaps a swim that slipped through the cracks as others grabbed the headlines, or a race we didn't get to examine as closely in the flood of weekly meets.
It's been a banner week for China at the Paralympics with 27 golds through 9 days. But none has been as historically dominating as Liu Benying's 200 free S2.
Benying didn't just break the world record, he smashed it into piece. Heading into the meet, the fastest any S2 man had swum the 200 free was 4:12.76. That was set by Russian Dmitrii Kokarev back in May of this year.
It was China's Zou Liankang who first broke the record in prelims, going an astounding 3:49.37. But Liu took over in the final, crushing a 3:41.54 in finals, a full 31 seconds faster than any man had swum the race prior to Rio.
Not only that, but Liu actually broke the 100 freestyle world record in his split at the halfway point. There, he was 1:46.63, cutting 17 seconds off the world mark.
And even Zou didn't go home empty-handed. He was 3:42.58 for silver and the second-fastest 200 time in history, plus broke the S2 50 freestyle world record with his opening split of 50.65 – that took more than 7 seconds off the world record.
Looking further back into history, Russia's Kokarev first took over the S2 world record in the 200 at the 2008 Paralympics, where he went 4:45.43. A huge accomplishment in his own right, Kokarev lowered that record down to 4:12 by this year.
That means Liu's swim has officially sliced an entire minute off the 2008 world record in a 200-meter race.
You can read more about the swim here.
Our full Paralympics coverage is here.
Aptly named to suggest 70% of the earth is covered in water, blueseventy is the world leader in the pool, triathlon and open water wetsuits and swimskins. Since 1993, we design, test, refine and craft products using superior materials and revolutionary details that equate to comfort, freedom from restriction and ultimately a competitive advantage in the water. blueseventy products have instilled confidence in beginners as well as carried world-class athletes to countless Olympic and World victories.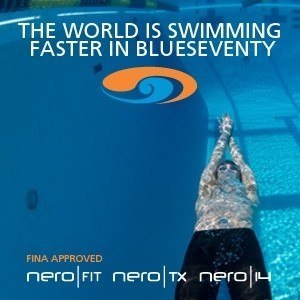 For the latest news and blogs from blueseventy visit www.blueseventy.com.
Twitter: @blueseventy 
Facebook: facebook.com/blueseventy
 Blueseventy is a SwimSwam partner.