Disclaimer: BlueSeventy Swim of the Week is not meant to be a conclusive selection of the best overall swim of the week, but rather one Featured Swim to be explored in deeper detail. The BlueSeventy Swim is an opportunity to take a closer look at the context of one of the many fast swims this week, perhaps a swim that slipped through the cracks as others grabbed the headlines, or a race we didn't get to examine as closely in the flood of weekly meets.
One of the top young IMers in the nation, Stanford's Ella Eastin was at a crossroads.
Since a 2013 season that saw her win Junior Nationals, Junior Worlds and set the Junior World Record benchmark time in the 400 IM, Eastin's 400 IM improvement had slowed, with no best times in the event in either short course yards or long course meters for all of 2014.
But the time drop finally came 11 months into the year 2015. And when it hit, it hit hard.
At last weekend's Art Adamson Invite, Eastin chopped a whopping four seconds off her lifetime-best to put up the NCAA's leading time of 4:01.04 in the 400 yard IM. And not only is that time the best 400 IM swim in the NCAA this year, it's actually a full second faster than Sarah Henry went in winning last year's NCAA title.
Clearly, the move to The Farm has been a good one for Eastin, who also blasted a lifetime-best 1:53.3 in the 200 fly and was just a half-second off her personal best in the 200 IM.
This isn't the first year Stanford has had a freshman sparkle at the Art Adamson Invite. Last year it was sprinter Simone Manuel who blew up at the team's mid-season invite. She went on to win two individual NCAA titles and set a new American record in the 100 free.
If Eastin can follow that freshman season blueprint, Stanford – even with Manuel sitting out the year to prepare for Olympic Trials – could show up at NCAAs a scary, scary team.
Aptly named to suggest 70% of the earth is covered in water, blueseventy is the world leader in the pool, triathlon and open water wetsuits and swimskins. Since 1993, we design, test, refine and craft products using superior materials and revolutionary details that equate to comfort, freedom from restriction and ultimately a competitive advantage in the water. blueseventy products have instilled confidence in beginners as well as carried world-class athletes to countless Olympic and World victories.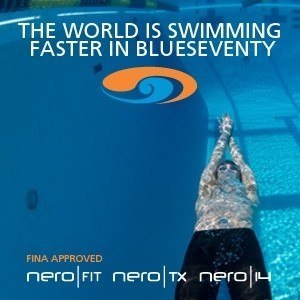 For the latest news and blogs from blueseventy visit www.blueseventy.com.
Twitter: @blueseventy 
Facebook: facebook.com/blueseventy
 Blueseventy is a SwimSwam partner.