Disclaimer: BlueSeventy Swim of the Week is not meant to be a conclusive selection of the best overall swim of the week, but rather one Featured Swim to be explored in deeper detail. The BlueSeventy Swim is an opportunity to take a closer look at the context of one of the many fast swims this week, perhaps a swim that slipped through the cracks as others grabbed the headlines, or a race we didn't get to examine as closely in the flood of weekly meets.
Since the European Open Water Swimming Championships began in 2008, no one has been as dominant at that particular event that Italy's Rachele Bruni.
Bruni won a pair of golds and a silver this week at the 2016 edition in Hoorn, Netherlands, including her fourth consecutive title as part of the team 5K. Bruni has never been beaten in the event at the European Championships.
The team 5K is made up of two men and one woman, but the female member is in a key role – in Hoorn, the women's 5K took roughly 59 minutes for the top women and 54 minutes for the top men. In the team event, all members of the trio have to finish before the clock stops, which means the female member has to take advantage of drafting off her teammates to push her 5K time well below what she can do individually. In Hoorn, Italy's trio snuck under 56 minutes, meaning Bruni was able to push her time about three seconds faster than the top female swimmers went in the individual 5K.
Her teammate Simone Ruffini gave her significant credit for the victory after the race: "Of course, with Rachele Bruni in our team we are very strong," he said. "She was the key for our victory today. We only had to maintain the focus and the pace and she followed us."
Bruni had won the individual 5K every year prior to 2016, but jumped into the Olympic-distance 10K this time around, to great success. A wrong turn by the leaders caused some chaos, but Bruni managed to grab a share of gold by tying France's Aurelie Muller (last year's world champ in the event and perhaps a favorite for Olympic gold).
Bruni's best 10K finish at Open Water Euros had previously been a silver from 2011. Her full medal tally from Open Water Euros:
Golds:
2008 team 5K
2011 team 5K
2012 team 5K
2016 team 5K
2008 women's 5K
2011 women's 5K
2012 women's 5K
2016 women's 10K
Silvers:
Aptly named to suggest 70% of the earth is covered in water, blueseventy is the world leader in the pool, triathlon and open water wetsuits and swimskins. Since 1993, we design, test, refine and craft products using superior materials and revolutionary details that equate to comfort, freedom from restriction and ultimately a competitive advantage in the water. blueseventy products have instilled confidence in beginners as well as carried world-class athletes to countless Olympic and World victories.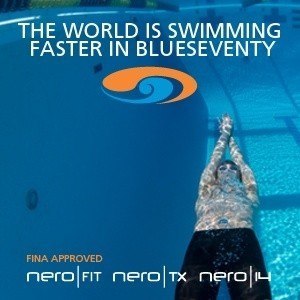 For the latest news and blogs from blueseventy visit www.blueseventy.com.
Twitter: @blueseventy 
Facebook: facebook.com/blueseventy
 Blueseventy is a SwimSwam partner.