Disclaimer: BlueSeventy Swim of the Week is not meant to be a conclusive selection of the best overall swim of the week, but rather one Featured Swim to be explored in deeper detail. The BlueSeventy Swim is an opportunity to take a closer look at the context of one of the many fast swims this week, perhaps a swim that slipped through the cracks as others grabbed the headlines, or a race we didn't get to examine as closely in the flood of weekly meets.
While the Pan American Games were chock full of outstanding international-level swims, a potentially-key swim for the American National Team slipped by in the Midwest.
Missouri Tiger Hannah Stevens put up perhaps the swim of last week in terms of domestic American swimming, going 1:00.04 in the 100 back.
"I was pretty excited about it," Stevens said of her 100 back swim at the Columbia Sectional. "When I looked up at the scoreboard after prelims, I thought it was a 1:01 at first."
But Stevens was glad she turned out to be wrong, going 1:00.66. By the time she'd gone 1:00.04 at finals, Stevens had moved to the #2 spot in all of America this season in the event. (The next day, Natalie Coughlin would bump Stevens to #3, though Coughlin's 59.20 was done on a relay leadoff, and won't count for U.S. National Team qualification.)
The most exciting part for Stevens: Sectionals wasn't even her major focus meet for the summer.
"We were a little rested for Sectionals," she said, "but our full rest is for Nationals."
U.S. Nationals in San Antonio will offer Stevens another crack at the minute barrier, a margin only two American swimmers (Coughlin and Kathleen Baker) have broken this year. Stevens says she'll swim the 100 and 200 backstrokes in San Antonio, along with a relay and potentially a time trial or two.
Just a rising sophomore at Missouri, Stevens says her first full year at Missouri helped prime her for the speed explosion of last weekend.
"In high school throughout the years, I'd train only 5 days a week," she said. Joining the rising Missouri program offered her more opportunities to train, both in the pool and out.
And in addition, Stevens says she's only been training and competing in the long course pool consistently since her freshman year of high school.
Based on her massive time drop since last summer – she was just 1:01.9 at the 2014 Summer Nationals – that growing familiarity with the Olympic distance appears to be turning Stevens into a legitimate national-level threat. And that makes her swim worth a second look in our Blueseventy Featured Swim of the Week.
Aptly named to suggest 70% of the earth is covered in water, blueseventy is the world leader in the pool, triathlon and open water wetsuits and swimskins. Since 1993, we design, test, refine and craft products using superior materials and revolutionary details that equate to comfort, freedom from restriction and ultimately a competitive advantage in the water. blueseventy products have instilled confidence in beginners as well as carried world-class athletes to countless Olympic and World victories.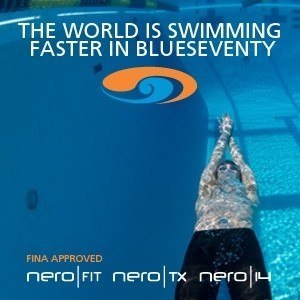 For the latest news and blogs from blueseventy visit www.blueseventy.com.
Twitter: @blueseventy 
Facebook: facebook.com/blueseventy
 Blueseventy is a SwimSwam partner.