The USA Water Polo Hall of Fame, a collection of excellence in the sport of water polo, returns in 2015 to induct three deserving individuals in conjunction with the USAWP National Awards Dinner. Two-time Olympic Medalist Natalie Benson (Golda), 1996 Men's Olympic Team Head Coach Richard Corso, and Women's National Team veteran and FINA referee Amber Drury will be honored at a benefit celebration May 30 at the Costa Mesa Hilton in Costa Mesa, California.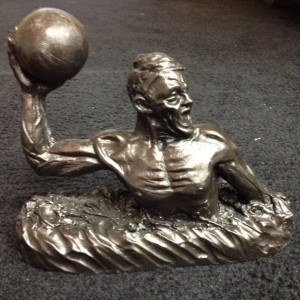 Tickets are on sale now starting at $150 with a VIP ticket including parking, reception drinks, and priority seating beginning at $250. Full tables and other sponsorship and underwriting opportunities are available which include invitations for ten to the cocktail reception, induction dinner, prominent recognition in the event program, acknowledgement in evenings remarks, entitlement aspect (example: bar, reception) along with gift bags for all attendees and more. Also available are tribute pages, a meaningful way to honor our Hall of Fame inductees and National Award recipients. For more information or to purchase tickets visit www.usawaterpolo.org or click here.
Proceeds from this year's event will benefit various initiatives of the entire not-for-profit USA Water Polo organization, including growth programs such as Splashball™ for the young and Masters, which enables more athletes to continue playing water polo after high school and college, as well as USA Water Polo Olympic Development programs, and Olympic teams for Rio 2016.
To see the USA Water Polo National Award Winners announced this week, click here.
Background Information On USA Water Polo Hall of Fame Class of 2015
One of the best defenders to ever play for the USA Water Polo Women's National Team, Natalie Benson (formerly Natalie Golda), transformed herself into an offensive force by the time her water polo career was complete. An integral part of two Olympic medal winning squads for Team USA at the 2004 (Bronze) and 2008 (Silver) Olympic Games, Benson powered the United States to three FINA World Championship medals (2003, 2005, 2007), including two gold medals. The 2003 FINA World Championship followed a 2001 FINA Junior World Championship title, both were firsts in program history. She joined the Senior National Team in the midst of a dominant college career. In her four seasons in Westwood, Benson guided UCLA to three National Championships. In a collegiate career stocked with awards and accolades her most impressive season came in 2005. After red-shirting the 2004 season to compete in the Olympic Games, Benson returned to lead UCLA to an undefeated season and another NCAA crown while earning Cutino Award honors as the top player in the college game. She added national and conference player of the year honors to an All-American selection. Benson remains active in the game today as Head Coach of the Marist College Women's Water Polo Team and as a coach in the Women's National Team pipeline where she led the Women's Youth National Team to gold at the 2013 Youth Pan American Games.
Earlier this year Richard Corso earned his 200th victory as the Head Coach of the University of California-Berkeley Women' s Water Polo Team. It is just the latest accomplishment in a career spent coaching water polo at the highest levels. Considered an innovator in the integration of sport science and sport psychology with the game of water polo, Corso spent time as an assistant coach in swimming and water polo at UCLA before beginning his head coaching career with the Yale University club water polo team. From there Corso broke on to the USA Water Polo National Team scene specializing in goalkeeping, serving as the goalie coach for the 1984 Men's Olympic Team that earned silver in Los Angeles and the 2004 Olympic Team that competed in Athens. Corso followed that initial Olympic Games with a head coach assignment for the USAWP Men's Junior National Team from 1984 through 1988 before he took over the reins of the Canadian Men's National Team. In the early 1990s, Corso was named Head Coach of the USA Men's Olympic Water Polo Team earning a seventh place finish at the 1996 Olympic Games in Atlanta, falling just a goal short of the medal round. All the while Corso was in the midst of a near 20-year run as Head Coach of aquatics at Harvard-Westlake School, one of the premier programs in the nation. By the time of his departure in 2005 Corso had amassed 40 league crowns and two CIF Championships. No stranger to the club scene, Corso also founded the Los Angeles Water Polo Club, piling up 18 National Championships between 1977 and 2006. Most recently Corso has built up the women's water polo program in Berkeley, currently in his 10th season. In the last five years he has guided the Bears to the NCAA Championship Tournament on three occasions including the title match in 2011.
Every game of water polo has three major components; players, coaches, and officials. Few excel at a high level in just one of these positions but Amber Drury has achieved success in all three. First as a player, Drury was a mainstay of the Women's Senior National Team from 1987 through 1994 competing in three FINA World Cups and two FINA World Championships earning three medals. Named USA Water Polo's Female Water Polo Player of the Year in 1991 and 1994 she blended National Team play with her college career. Coming of age before the widespread availability of women's college programs, Drury was the captain of the Rio Hondo College men's water polo team in 1991. She moved on to Pomona-Pitzer where she was named Division III Player of the Year on two occasions while winning two National Championships. Following her playing career Drury transitioned to coaching, holding various positions in the National Team pipeline. From there she guided several college programs, most recently the University of Michigan and the University of California-Berkeley, winning over 40 games at each post. In 2002 she took Michigan to their first ever appearance in the NCAA Tournament, following a CWPA Championship crown. In the meantime Drury has found time to wear the whites, starting as a high school official at the CIF level and now advancing to the highest levels of both the NCAA and FINA. Most recently she officiated the 2014 NCAA Women's Championship and the 2013 FINA World Championship in Barcelona where she whistled the bronze medal match.
Selection Procedure Information
Inductees were chosen through a process that included open nominations by their peers, evaluation of their candidacy by the USA Water Polo Hall of Fame Committee, and final ratification of the committee's recommendations by the USA Water Polo Board of Directors. The Committee is co-chaired by Brent Bohlender and Chris Dorst, and includes Jody Campbell, Dion Gray, Maggie Kelly, Charles Schroeder and Scott Schulte. USA Water Polo inducted its first Hall of Fame class in 1976. To view past inductees of the USA Water Polo Hall of Fame click here.
About USA Water Polo
USA Water Polo, Inc. is the national governing body for water polo in America, overseeing our United States Olympic program as well as 20 different championship events annually, such as Junior Olympics and Masters National Championships. With more than 40,000 members, USAWP is also the sanctioning authority for more than 500 Member Clubs and more than 400 tournaments nationwide. USAWP is committed to the development of the sport nationwide. It fosters grass-roots expansion of the sport, providing a national system of affiliated clubs, certified coaches and officials.
Water Polo News courtesy of USA Water Polo.