Trying to select an open water event?

So many choices. Only continue reading if you would like to swim in calm crystal waters above a white sand bottom in a magnificent, historic location designated as part of a UNESCO World Heritage site. "Swim the Bay" is an annual open water event in Carlisle Bay, Barbados. In 2013, the events attracted hundreds of swimmers, ranging in age from five to eighty three years old, from a variety of countries across four different continents. A British Swimmer said: "Think pinch yourself perfect conditions" and this about sums it up!
Laurie, visiting from Calgary thought the swim was "truly paradise since Canadian open water swimmers usually only experience cold murky water conditions. Many starfish were easily seen on the white sandy bottom and several sea turtles were swimming the same loop as the competitors."
Want to include more swimming?
The Barbados International Masters Pool Meet a couple days before at the Aquatic Centre is an option and so is the open water clinic with a world champion open water swimmer.
Apart from swimming, Barbados is a world-renowned vacation destination and for good reason. It is as rich in culture and history as it is in beauty. There are a plethora of activities, attractions and events in Barbados suited for all ages and preferences.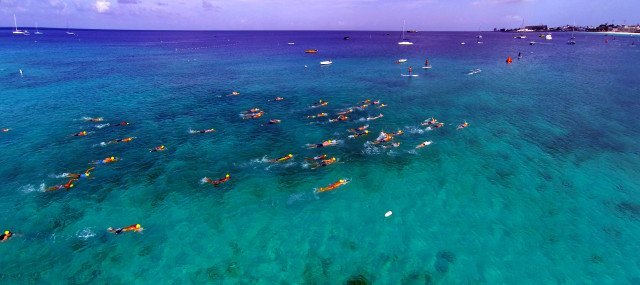 Int'l Masters Pool Meet October 29-31 & Barbados Open Water Festival Nov 2 2014. Enter now. www.swimbarbadosvacations.com.
Mission: To promote swimming in Barbados and to share our venues with pool & open water swimmers from around the globe!

SwimBarbadosVacations has been formed to host International swimming events in Barbados. In 2013 two Open Water Festivals were held (July & October) and they were well subscribed by swimmers from all across the globe. Conditions for open water swimming in Barbados are excellent. Additionally, there is a very active group of Masters Swimmers on the island and in 2014 a Masters Pool Meet (Oct 29-31) will be hosted in conjunction with Flying Fish Masters and the Barbados Amateur Swimming Association. The organizers are veterans of the local swim/water polo/triathlon fraternity. They have a passion for swimming and for growing the sport in Barbados.
There were two open water swim events hosted in 2013, the first took place on July 6th and the second on October 27, 2013. Two swims, a 1.5km swim and a 5 km swim plus SUP relay races, kayak races and water polo. The 2014 event will be hosted on November 2nd. Swimmers & triathletes of all skill levels, from recreational to elite are welcome! Swim at your own pace. The races are broken down into age categories for men and women, see web site for details on this, 2013 prizes and more. (http://www.swimbarbadosvacations.com/).
Follow Swim Barbados Vacations on Twitter here.
Like Swim Barbados Vacations on Facebook here.