How are we at Big Blue Swim School able to consistently give the best lessons? Simple, we don't simply recite the same, tired curriculum and hope your child is able to retain some of it. We ensure each child learns by using differentiated learning techniques.
Our curriculum uses the same formula for teaching every one of our skills. The formula is simple. First, we clearly explain the skill while also physically demonstrating the movement we're looking for. Next, we ask kids to mimic back to us the exact same move we just demonstrated. Finally, we provide immediate feedback before and after they attempt the skill in the water.
Explain
We break down every skill into bite-size bits of information that build on one another. We explain these skills with fun games that keep kids engaged and having fun. Often, kids don't even realize they are learning because they're having so much fun playing one of our games.
Demonstrate
Some kids will need to see what we're asking of them before they can "get it." Our teachers slowly demonstrate each movement before we ask a child to try it on their own.
Mimic
If a child needs to "do it" themselves before they're able to understand then we have that covered, too. Kids physically practice each skill as their teacher demonstrates the movement in front of the class. We find this rehearsal step is key to understanding the skills faster.
Correct
We make sure to always provide productive feedback every time a child performs a skill. We make sure the feedback is always constructive and immediate so the child knows exactly what to work on and how to work on it.
Our child-focused Big Blue curriculum would not be possible without our highly-trained, full-time teachers.  We make sure our teachers are happy, engaged, career-oriented individuals who are passionate about working with children.  All teachers complete an initial training program that teaches our proprietary Big Blue curriculum, plus on-going continuing education. It all adds up to knowledgeable teachers who are passionate about our mission, to show kids they can do anything by unlocking their full potential in the water.
ABOUT BIG BLUE SWIM SCHOOL
Big Blue Swim School was founded in 2009 by competitive swimmer Chris DeJong. The first location opened in Wilmette, Illinois, followed by Niles, Buffalo Grove and Hoffman Estates. In 2017, Level 5 Capital Partners acquired a majority stake in the brand, and is rolling out an aggressive strategy to grow through franchising to 150 locations by 2020. Big Blue Swim School's real estate footprint, proprietary technology Lesson Buddy, coupled with its practice of employing full-time child engagement specialists that teach based on a proprietary distance-based swimming methodology sets Big Blue up for long-term success. To learn more about franchise opportunities with Big Blue Swim School, visit http://YourBigMomentStartsHere.com.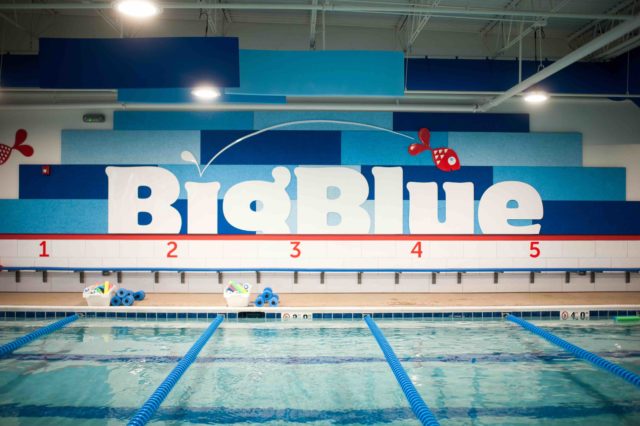 Big Blue Swim School is a SwimSwam Partner.