The Open Water Festival 10k race took place in Miromar Lakes, FL today, with some of the top domestic and international open water swimmers competing.
For the women, a tight finish between six swimmers gave way to USA's Ashley Twichell for the win. Click on the picture below for the full results.
Touching at 2:01:51.78, Twichell edged ahead of Rachele Bruni of Italy (2:01:52.02) by mere tenths in the two-hour-long race.
Womens 10k finish #OWNats pic.twitter.com/IFdDIRI73j

— Open Water Festival (@openwaterfest) April 8, 2016
3rd thru 6th were also incredibly tight, with Brazil's Ana Marcela Cunha touching at 2:01:55.41 ahead of three other swimmers clumped together. USA's Haley Anderson (2:01:56.28), Brazil's Poliana Okimoto (2:01:56.43) and France's Aurélie Muller (2:01:56.44) went 4th, 5th and 6th, respectively. Okimoto and Muller were separated by just one hundredth at the finish. Click below to see full results.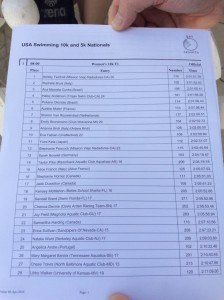 It looked to be a victory for Andrew Gemmell in the men's race, but he was later DQ'd for an undisclosed reason. The winner turned out to be Ferry Weertman of the Netherlands in another incredibly close finish. He touched in 1:53:55.11 barely ahead of Tunisia's Ous Mellouli (1:53:55.57).
Men's 10k #OWNats finish video pic.twitter.com/aKRJzz1rxs

— Open Water Festival (@openwaterfest) April 8, 2016
With Gemmell's DQ, Alec Meyer of Tennessee Aquatics was the top American finisher, with his time of 1:53:57.40 proving to be good enough for third. France's Marc Antoine Olivier touched in fourth with a time of 1:53:58.94, the last finisher under 1:54:00.00 in the competition. Click below to see full results.