Courtesy of Dolfin, a SwimSwam partner:
Season's greetings from Dolfin!  We have compiled a list of our Favorite Things for this Holiday season.  Swimmers love to receive new swimming equipment, gear, and swimwear and what better way than to get the highest quality products at the most reasonable prices on the market.
Also, if your team is in a Dolfin suit this year, it's not too late to sign up for our new Team Sponsorship Program.  For more details, email [email protected] or please click here.
1) Dolfin Back Pack – Our Dolfin Back Pack is the perfect size, waterproof, and has plenty of storage space for all of your swimming needs.  "Best bag for your buck!"
2) Dolfin Warm up Jacket – The Dolfin Warm Up jacket is cozy and stylish…just what every swimmer is looking for.  Currently available in Navy and Black.
3) Winners Reversibles – Dolfin's Roma print comes in 3 colors- Pink, Blue, and Black…all reverse to a solid suit.  Essentially you are getting "2 suits for the price of 1!"  This suit is perfect for the swimmer that likes a super skinny strap while practicing.  It is comfortable on the shoulders while training for hours plus the reversible feature is a great way to keep you feeling excited about practice.  Also available in a 2 pc.
4) Platinum2 Color Block Technical Suit – FINA APPROVED and available just in time for Championship Season.  Once you are tapered and shaved and ready to race, the Platinum2 color block is the final touch to make you swim at your fullest potential and have fun while doing it!
5) Dolfin Uglies! – Dolfin Uglies continue to out-sell any other training suit out there.  With the bold colors and long lasting poly blend fabric, they are always a reliable product for swimmers of any age.
6) RONDO (100% Chloroban/Polyester) – The Rondo print in blue/green is one of our favorites this year because of its rich colors and chlorine resistant/polyester fabric.  Also, the all over print in the male jammer and brief give the guys something fun instead of the traditional splice print male suits.
7) Victor Goggle – The Dolfin Victor goggle has only been available for over a year and it already has become one of the most popular goggles on the market.  Not only is the price right, but the soft silicone gasket is comfortable and gives a more complete seal than any other goggle that might compare in size and style.
Check out our "Where to Buy" section on www.dolfinswimwear.com to find out your nearest Dolfin dealer and retailer.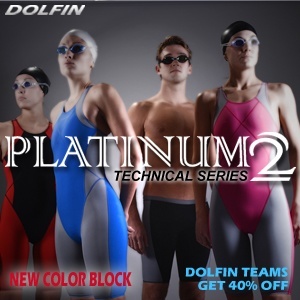 Today more swim teams are competing and training in Dolfin than ever before! Dolfin has been one of the leading swimwear brands for over 50 years. We offer the best value in the industry with the highest standards of innovation and quality. Additionally, our Womens Aquashape line has developed a loyal customer who appreciates durability and fit while exercising in Aqua Aerobics of swimming in Master swim leagues.
Founded and operated in Pennsylvania, Dolfin continues to provide its customers with the best quality swimwear at the most competitive prices in the industry. From product development and design to presentation and delivery, Dolfin is committed to customer satisfaction and to our goal of becoming America's most popular brand of performance swimwear!