Athletes from Michael Jordan to Michael Phelps have found themselves hitting a plateau in their performances from time to time. Cross training can be used to break through these plateaus by training in a different way than you are used to. Fitness enthusiasts and athletes also like the mental break that cross training allots them instead of having to knock out a generic workout in the gym or on the field.
One issue many fitness enthusiasts have is finding apparel or a swimsuit that can jumped around in on land and into water and be run in without rubbing skin raw. Chaffing is a nightmare and can leave you in pain for days or even weeks later depending on the severity and location. Original Watermen men's compression shorts help solve this problem, boasting a rash free guarantee these new compression shorts are as effective for a sprint or endurance swim,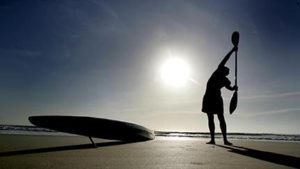 bike or run (or all 3!), as for a kayak or surf session, and even for advanced weight lifting sessions. No matter what cross-training activity you're doing or start, you need to be properly outfitted with compression shorts (& performance sports bras for the ladies!) so that you can keep practicing. As you probably know, without consistent practice you won't improve much and can quickly become discouraged.
Cross training effectively has a few components which include proper technique to avoid injury, benefits being in line with goals, and varying workouts to maximize effectiveness. The following outlines cross training areas that you should investigate including some tips for success.
High Intensity Interval Training (HIIT)
High intensity interval training or HIIT is based on getting the most out of your body for a short time then resting until the next rep. A workout like 10 rounds of a minute sprint running, swimming or biking followed by 3 or 4 minutes of rest or active recovery like walking slowly. This can be a great way to shed the pounds as well as train for sprint based sports like swimming or running. The boosting of metabolism is one reason this type of cross training has caught on in a multitude of sports. CrossFit has used HIIT training methods for workouts; this fitness group is one that embraces cross training to the highest degree. Compression improves your recovery during- and post-workout, and by helping both improve muscle-recovery times and prevent chafing due to sweat, the Watermen Shorts are one of the most functional and versatile compression shorts for the variety of exercises you might take on in HIIT.
Wet to Dry to Wet Workouts
The use of a pool to cross train is used by elite athletes for both training and conditioning as well as rehabilitation of injuries. Swimming then jumping out of the pool, lake or ocean to do "dryland" exercises, alternating back and forth, helps boost anaerobic energy systems as well as build strength. The Watermen Shorts have been specially designed for the world's most amphibious athletes. They ensure extra comfort in even the most grueling trials by adding warmth, drying quickly, and most importantly preventing rashes.
Strength Training
The number one rule of using strength training as a cross training method is staying injury free. Too many beginners try to lift too heavy of weight or simply do not know the proper form for some exercises. Even endurance athletes should dabble in strength training as it helps them become a more well-rounded athlete. Utilize a workout program found online (do your research!) or better yet one obtained by a professional until you see what benefits you the most as far as workout regimen goes. YouTube can be an incredible resource to watch the way the exercises are supposed to be performed. You may notice most people wearing workout compression shorts. These help endurance as well as recovery by improving blood flow, and with Original Watermen's anti-microbial compression shorts you avoid those funky smells that linger after several workouts. Last but not least, another tool to remember is your very own smartphone video recorder since it's not easy for a workout partner or trainer to both help and be able to see what you are doing incorrectly.
Cross training is the perfect way to break out of a fitness plateau that even the best athletes encounter from time to time. Write down fitness goals to hold yourself accountable and let hard work along with intelligent and strategic cross training help you achieve them!
About Original Waterman
Like so many great things in the 70's, we started in the back of a VW bus. Surfer and lifeguard, Ken Miller and future wife Jen, began making and selling water trunks. The first customers were Carlsbad locals and eventually the State of California lifeguards signed up for 36 red shorts.
Since those early days we have evolved and grown and eventually outfitted over 1700 organizations from local and state agency lifeguards and fire fighters to military special forces. Original Watermen, as a company, was created with a singular vision: provide the best quality, fit, and performance in every garment. Few industries have the opportunity to test their mettle each time a great set rolls in. We're fortunate; we do.
At Original Watermen we measure our success by the performance of our products and the satisfaction of our customers. If you're new to us, welcome aboard…it's time to earn your salt.
Cross training courtesy of Orignal Watermen, a SwimSwam partner.