Hello from "The Ville"!
I am very excited about the opportunity to share my 30 years of competitive swimming experience with you. Our highly experienced and qualified coaching staff will teach you valuable techniques to help you continue to improve, and ultimately, SWIM FASTER! I invite you to join us at the University of Louisville Cardinal Swim Camp for an all- around fun summer experience where you will learn the details of success in and out of the pool!
– Coach Arthur Albiero
GOALS AND OBJECTIVES
Our goal is to provide an atmosphere where swimmers are excited to learn about all areas of competitive swimming: from technique, to racing, and training. The camps are open to all swimmers ages 12-18. We will focus on many areas including breakdown of all four competitive strokes, drills, starts, turns as well as goal setting, dryland training and educational lectures.
Starts, Turns & Breakouts Camp–(Overnight & Commuter)
Ages 8-Over.This camp focuses on the small details that make a BIG difference. Improving your starts, turns and breakouts for all four strokes will guarantee to help you swim faster!
Technique & Training Camp–(Overnight, Commuter, Half-Day)
Ages 8-Over. This camp focus on the essential as well as cutting edge skills related to stroke techniques, but also the art of "winning the practice" mindset. Each camper will be placed in a training group according to age, ability, and competitive background. This camp is designed for competitive swimmers who can swim all four competitive strokes. Higher level swimmers will be placed into a higher demanding training group and will provide great aerobic training for the summer season.
COACHING STAFF
Coach Arthur Albiero – Head Coach, University of Louisville.
The year 2015-16 season saw the Cardinals win two more NCAA Championships with Kelsi Worrell picking up two more in the butterfly events. Worrell went on to make the Olympic team and win a relay gold medal after winning the Honda Award and being named as a First Team Academic All-American. She was named both the ACC Swimmer of the Year, and the 2016 Most Valuable Swimmer. In all, seven Cardinals went to Rio (Joao De Lucca, Andrea Kneppers, Tanja Kylliainen, Marcelo Acosta, Carlos Claverie, Grigory Tarasevich and Worrell) along with Albiero, who went as a coach. The men were the ACC Runners-up and the women were fourth. At NCAAs, the Cardinal men were 11th and the women placed eighth.
Vlad Polyakov- Assistant Swim Coach, University of Louisville.
Coach Polyakov is in his 5th season as a member of the coaching staff at the University of Louisville. He has brought tremendous experience as a world-class level competitor. A 3-time Olympian. His career highlights, 2004 Olympic double finalist, 2007 World Champion Short Course (200 Breaststroke) while also competing in the 2008 and 2012 Olympic Games. He also has vast experience working with age group swimmers of all ages, and he was an age group coach with his home club, Coral Springs Swim Club.
Chris Lindauer – Assistant Coach, University of Louisville
Coach Lindauer is now on his 8th season as a member of the coaching staff at the University of Louisville. Chris was a member of the UofL Swimming Team from 2004-2008. He concluded his Cardinal career as a NCAA All-American and as a member of 5 UofL relays that placed top-16 at the NCAA Championships in 2008. He was a four-time BIG EAST Champion and seven-time All-BIG EAST Conference selection. He won the 2008 UofL Coaches Award and the 2008 UofL Most Memorable Performance Award.
Stephanie Juncker – Assistant Coach, University of Louisville
Coach Juncker is on her 3rd season as a member of the coaching staff at the University of Louisville. Stephanie is no stranger to the winning culture of the swim program at UofL. She was a member of the UofL Swimming Team from 2008-2012. She concluded her Cardinal career as one of the most respected team leaders being elected Senior Team Co-Captain. She was the recipient of Central Cardinal Club Leadership Award, presented annually to the senior female student-athlete who has best shown leadership on and off the field at Louisville. As a swimmer who specialized in the individual medley and breaststroke, Juncker led Louisville to back-to-back Big East championships in 2011 and 2012 and was named an All-Big East performer in 2012. She was named to the Big East Academic Honor Roll from 2010-12, and was a BIG EAST SAAC representative in 2010.
Kameron Chastain – Assistant Swim Coach, University of Louisville
Coach Chastain in on his 2nd season as a member of the coaching staff at the University of Louisville. Kameron lettered for the Cardinals from 2010-14, served as captain and was a part of two conference team championships while competing NCAAs all four years. He was an all-Big East and All-American Conference performer. In all, he won nine conference championships and was a part of the school record ninth place finish at the 2012 NCAAs. After his 2014 graduation with a degree in exercise science, he served as a volunteer assistant with the UofL team while coaching age group swimmers at Cardinal Aquatics.
CAMP FEATURES
Personalized Instruction from our elite, experienced, enthusiastic staff
Training in the beautiful Ralph Wright Natatorium
Overnight campers will be lodged at the Kurz Hall
All campers will receive a camp t-shirt, a swim cap and water bottle
There will be daily lectures on performance, nutrition, sports psychology, training philosophy and training physiology
Emphasis on technique with videos and education
2 Water Sessions Daily
24 Hour Supervision for all campers
8:1 swimmer to coach ratio
CARDINAL TUTORS
Cardinal Tutors is a 1-hour long session where a camper has the opportunity to work one-on-one on a specific stroke or skill with one of our elite college swimmers. Tutors may get in the water to enhance what the camper is learning throughout the camp and will work on each camper's specialty. Campers and Tutors are matched based on specialties.
ENDLESS POOL STROKE ANALYSIS
Extremely unique opportunity for our campers to experience the most advanced technology in our sport. The Endless Pool works like a "swimming treadmill" where swimmers can experience an unmatched level of immediate feedback with mirrors at the bottom and at the top. It is an incredible tool to help the swimmer understand proper and most effective technique, along with correcting flaws. Analysis will include a take home flashdrive in full HD quality with coach commentaries using Dartfish Software.
PLEASE NOTE
10+KIDS DISCOUNTS AND UOFL EMPLOYEE DISCOUNTS ARE AVAILABLE! CARDINAL SWIM CAMP IS OPEN AND AVAILABLE TO ALL PARTICIPANTS! Info on Discounts: [email protected]
***Olympic Gold Medalist and American Record Holder Kelsi Worrell will host the 2017 Butterfly Swim Camp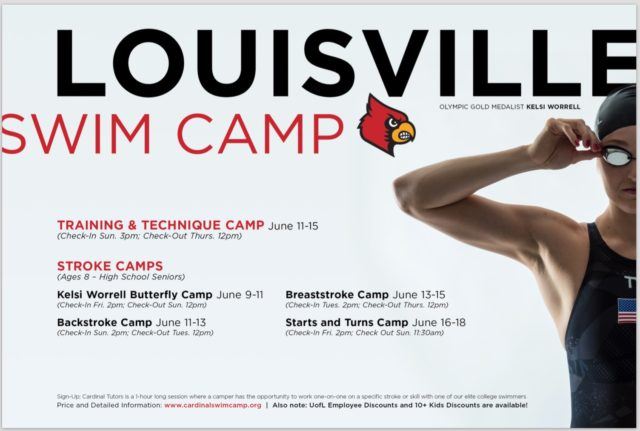 Swim Camp news is courtesy of the 2017 Cardinal Swim Camp, a SwimSwam Partner.