The 17th Annual RCP Tiburon Mile Open Water Swim is coming up on Sunday, August 19th, 2018 at 9am! Olympic and World Champions, as well as avid open water swimmers of all ages and levels converge in the San Francisco Bay, California to battle it out in what has been named "one of the world's most competitive open water swims." This competitive race integrates the best pool and open water world champions in one venue.
Starting at Angel Island and swimming their way through the Raccoon Straight, swimmers will finish the one nautical mile race on the shores of Tiburon at Sam's Anchor Café.
This annual event has raised over $1.5 million for charity since 1999- this year's proceeds will be directed to supporting LifeHouse.
Spectators are invited to watch the race unfold at Shoreline Park in Tiburon with a back drop of the beautiful San Francisco Bay and views of the skyline of San Francisco. There will be a live band and a gourmet picnic by top restaurants in Marin including Sol Food Restaurant, Milano Ristorante, Il Davide Cucina Italian, and Guaymas Restaurant.
Among the elite swimmers who will head to the RCP Tiburon Mile are Olympic Swimmers and invitees:
Ferry Weertman, Netherlands, 2016 Olympics, 10k open water swim Gold medalist
Ranomi Kromowidjojo, Olympic Gold medalist, 3-time Olympian from the Netherlands.
Zane Grothe, USA 500 & 1650 Freestyle American record holder
World Champion, Ashley Twitchell, USA, 3-time RCP Tiburon Mile Elite winner
Italian Open Water National swim team – including Silver medalist in the Women's 10k open water Rio Olympics 2016
Ricardo Vargus, Mexico. Mexican National distance record holder. 5k Open
Dave Heron, USA, Open Water USA, National Champion
Event Date: Sunday, August 19, 2018 shot gun start @ 9:00 am
Event: 1 nautical mile open water swim and music/food festival
Location: Angel Island to Sam's Anchor Café in Tiburon
Charity: LifeHouse ~ serving developmentally disabled since 1954
Attendance: 500 Athletes and 1,500 spectators
Divisions: Elite, Age Group and Wetsuit
Cost: $179 till 8/04/18, after 8/04/18 will be $225, and $300 day of, plus $20 lunch tickets
For further information on how to attend and report on this exciting, one of a kind, local event, and for Press Credentials, contact, Michele Lyn Forsythe-Manso at [email protected] Hotline: 415-306-0716 website; www.rcptiburonmile.com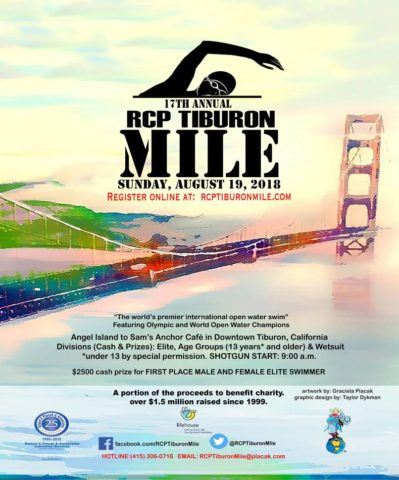 Open water swimming news is courtesy of the 17th Annual RCP Tiburon Mile, a SwimSwam partner.