Courtesy of AthleticFoodieTM, a sports performance company that helps athletes unlock their potential
Written by Cristina Caldwell
The media can portray fat in a negative light, leading many athletes to believe that eating dietary fat will make them fat. This is far from the truth. In fact, fat can be just as important as carbohydrates and protein.
Fat is crucial for athletic success, and shouldn't be feared.
Types of Fat:
Unsaturated Fats: polyunsaturated fat (PUFA) and monounsaturated fat (MUFA) – these are generally found in nuts, seeds and plants and are the types of foods that you want to consume.
*Omega 3 Fatty acids: these are found in PUFA's and very important for athletes. Omega 3's are essential fats, meaning we need to consume them in our daily diet, as they help reduce inflammation and muscle soreness that is produced from training. My favorite sources of omega 3's include salmon, flaxseed, chia seeds and walnuts.
Saturated Fat: normally found in animal products like full fat dairy, and meat. Saturated fat is also found in coconut products. This type of fat is fine in moderation. Generally 10% or less of your calories should come from saturated fats.
Trans Fat: this type of fat is found in commercially processed foods like cookies, crackers and candy. Avoid this type of fat.
Why is Fat Important?
Provides an energy source
Protects your organs
Helps with the absorption of "fat soluble" vitamins. These include vitamin A, D, E and K
Helps the brain function
Produces hormones needed for crucial body functions
What Types of Food Contain Unsaturated Fats?
Nuts: almonds, cashews, walnuts, pistachios, hazelnuts, pecans
Seeds: sunflower seeds, sesame seeds, chia seeds, hemp seeds, flax seeds
Olives/olive oil
Avocado
Hummus
Salmon/other fatty fish
How Much Fat Should You Eat?
Athletes want to focus on getting between 20-35% of their daily calories from fat. Another way to look at this is you want to eat at least .45g of fat per lb. of body weight. If you weigh 100lbs, you want to consume 45g of dietary fat, each day.
How can you make sure you are consuming enough fat?
AthleticFoodieTM pre-workout granolas and post-workout trail mixes contain numerous sources of unsaturated fats and omega 3's, in their almonds, cashews, pistachios, chia seeds, sesame seeds, flax seeds and sunflower seeds. By choosing AthleticFoodieTM snacks, as a source of fuel for your workouts and competitions, you're helping ensure that you are getting the right sources of healthy fats that you need to perform at your best.
Additional ideas include:
Eating salmon for dinner
Using olive oil when cooking
Eating hummus for a snack (with vegetables)
Throwing in a handful of almonds or walnuts into your oatmeal-or better yet, top your oatmeal, or yoghurt, with AthleticFoodieTM post-workout trail mix, for important and healthy fats.
Add nuts and seeds into your favorite whole grain muffin recipe.
Take Away:
Fat is necessary for athletic success, as it helps with energy, organ protection, vitamin absorption, hormone creation, inflammation and muscle soreness.
Eating fat will not make you fat.
Choose a mixture of unsaturated fats and focus mainly on nuts, seeds and fish.
Shoot for .45g of fat per lb of body weight, per day.
Choose foods like AthleticFoodieTM trail mix and granola for your snacks, as they will ensure you are meeting your daily requirement for healthy fat.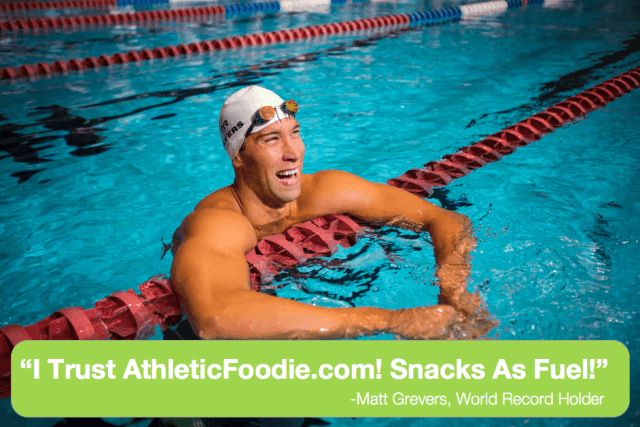 AthleticFoodieTM is a sports performance company, founded by Olympic Gold Medalist Garrett Weber-Gale, which makes snacks that are specifically designed to help athletes perform. Please visit www.athleticfoodie.com for more information about ordering AthleticFoodie snacks, and getting fuel that will help you swim fast.
About Garrett Weber-Gale, Founder of AthleticFoodieTM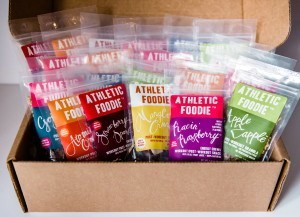 In 2005, Garrett was diagnosed with dangerously high blood pressure, and was almost forced to give up his Olympic dream. Luckily, a small dose of medication, and a total revamp in his diet saved his dream and put the Olympics back in sight. Garrett began to see the direct connection between what he put into his body, and what he could get out of it.
After his diagnosis with high blood pressure, Garrett made it his mission to learn how to make healthy food taste great. He's traveled the world working in famous restaurant kitchens in Italy, France, Copenhagen, Spain, and New York City. Garrett has taken his knowledge and experience from all over the world, and shared it with others through speeches at the White House, to schools, sports teams, TEDx, universities, TV and radio appearance, cooking classes, authored articles and AthleticFoodie Events.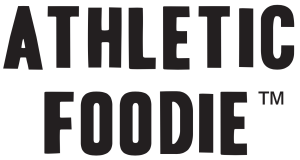 AthleticFoodieTM is a SwimSwam content partner.