The most decorated athlete in Olympic history, Michael Phelps, is also one of the most recognizable faces in the world. His image was not only emblazoned across billions of television screens over the course of the past four Olympics, but Phelps has also been an Olympic image mainstay closer to home.
The 23-time gold medalist's in-water celebration image was recently strewn across an entire side of the CenturyLink Center building during this year's Olympic Trials in Omaha. In 2013, Phelps' image of his iconic butterfly arm recovery was pictured on one of three 'Title Tanks' silos on display at sponsor Under Armour Inc's Locust Point campus in Baltimore, Maryland.
On a smaller scale, fans are taking to their own unique ways of paying artistic homage to the GOAT. 'Cube Creators', a youth group located at First Baptist Church of Clovis in Clovis, California, has recreated Phelps' image using Rubik's cubes – 1500 of them, to be exact.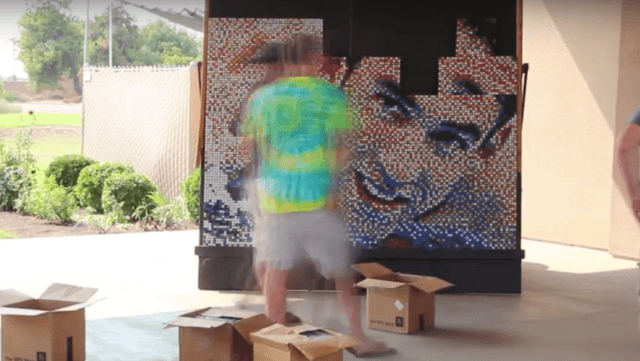 In the past, the group has recreated images of personas ranging from historical, such as Martin Luther King, Jr. to pop culture-oriented, including Darth Vader. The mosaics are made as a way for the group to raise funds for mission trips.
"We make mosaics out of generic brand Rubik's Cubes. We make them for fun, for fundraising and to honor folks who have had amazing achievements. This week we decided to honor Michael Phelps, the most decorated Olympian in human history," the Cube Creators convey via their YouTube channel.
Watch the video and see Phelps' face (this time smiling) come to life as the artists work their magic.