USA Swimming has published the full set of time standards for the 2019 Phillips 66 National Championships, the last summer national championship meet before 2020 Olympic Trials.
USA Swimming's stats account tweeted out the cuts this afternoon. You can see them below:
2019 Phillips National Championship Qualifying Standards have been released! Set those goal times now! #USAS2018 pic.twitter.com/logdGbAvp6

— USA Swimming Stats (@USASwimStats) September 26, 2018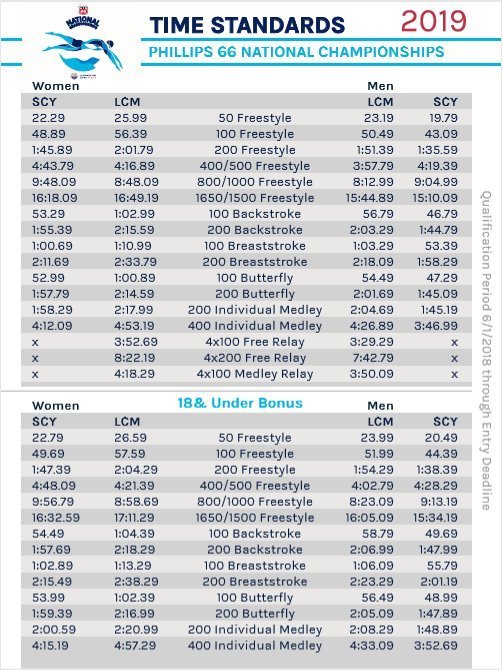 The 2019 National Championships will take place from July 31 through August 4, 2019 in Palo Alto, California, according to USA Swimming's most recent Quad Plan. The meet will likely be without a lot of the nation's biggest stars, who will be competing instead at the 2019 World Championships (July 21-28), World University Games (July 3-14) or Pan American Games (August 6-10).
The announcement of the 2019 cuts comes one day before USA Swimming's announcement of the 2020 Olympic Trials cuts, which are supposed to be revealed Thursday night.
Qualifying for the 2019 National meet officially started in June. Swims from June 1, 2018 through the meet's entry deadline will be eligible to qualify for 2019 Nationals. 2019 Nationals will be the only National meet within the 2020 Olympic Trials qualifying window – that's a change from past seasons, where the qualifying window was wider. USA Swimming narrowed its 2020 Olympic Trials qualifying period to start this November 28, in an effort to slow the overcrowding of athletes that has characterized the last few Olympic Trials meets.