Courtesy of A3 Performance, a SwimSwam partner.
BODIMAX Sleeves, developed by A3 Performance, are the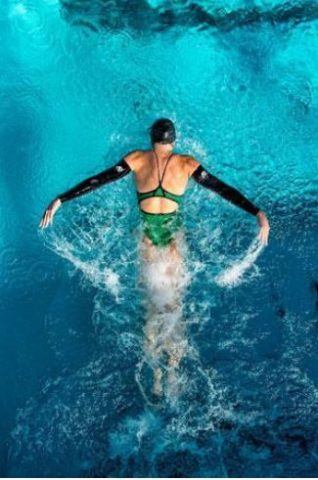 newest, patent-pending innovation in the sport of swimming. The BODIMAX Sleeves are the first-ever aquatic compression wear; they are compression sleeves designed specifically for in-water training. The power of this innovation, though, is in its technology; the BODIMAX Sleeves are built with textile technology that has penetrative power and is proven to heal, repair, and rejuvenate the human body. BODIMAX Technology has numerous performance-enhancing properties and is woven into the BODIMAX Sleeves.
BODIMAX Technology is new and uncharted in the world of athletics. Many people think that textile technology, and even compression, are all mental with little-to-no actual impact on the athlete.
That is incorrect, and we will tell you why!
BODIMAX is not for making swimmers think that they feel better, think that they are recovering faster, or think that they are improving.
BODIMAX makes an impact!
Athletes will recover faster, feel better, and improve their performance.*
"Our 30-day study showed that high school swimmers improved on average 1.5 seconds more over 200 yards when wearing sleeves versus not wearing sleeves. I believe that the longer athletes wear the BODIMAX Sleeves, the more improvements can be seen." -Dr. Genadijus Sokolovas, Global Sport Technology, Inc.
The mental aspect of athletics is incredibly important but BODIMAX Technology and BODIMAX Sleeves are not about mentality, they are about results. BODIMAX Technology elicits real results.
An innovative development, the impact of BODIMAX Technology is significant. This technology, especially in sport, is the fabric technology of the future. 
Due to the patent-pending nature of the BODIMAX Sleeves, we have not been able to disclose our extensive findings publicly…until now! A3 Performance has compiled our extensive research and findings into the following document to tell you The Truth About BODIMAX.
So what are you waiting for? Click the button below to read the full documentation and learn The Truth About BODIMAX? 
*Improved performance is contingent on not only consistent use of the BODIMAX Sleeves but also on a great effort in practice and hard, consistent training.



Swimming coverage of the 2018 Women's NCAA DI Swimming and Diving Champions is presented by A3 Performance, a SwimSwam partner.