Notre Dame's Women's team just doubled their recruiting class with verbal commitments from Abbie Dolan and Katie Rentz. Dolan is one of the top sprinters in the country and is also a talented IMer and flyer from Minnesota. Rentz is a solid flyer and IMer from Illinois, and both will bring a lot to the team.
"I chose Notre Dame because of its rich tradition of academic and athletic excellence. I know the future of the program is very bright under the enthusiastic direction of Coach Litzinger and Coach Woo. I felt an immediate connection with the team and the school. I am excited to be part of the program's future success!" –  Abbie Dolan
"After a recruiting trip there, I fell in love with it. I really felt the feel of family at both the school and inside the team. I'm so excited to join the Notre Dame family next year." – Katie Rentz to the Kane County Chronicle.
Coach Mike Litzinger is bringing in a strong recruiting class in his first year as the head coach of Notre Dame's women's program. Dolan and Rentz are the third and fourth verbal commitments from the class of 2016. Litzinger has also received commitments from Katie Smith and Reilly Lanigan.
Dolan's best time in the 100 freestyle is already in scoring range at the ACC Championships, and is borderline to make the A final. With a year to go before she arrives on campus, she will have a major presence on the team and within the conference. Rent's 200 butterfly is also fast enough to score at the ACC Championships, which is what the team needs as they rebuild under coach Litzinger.
Notre Dame graduated a big chunk of their points last year with Emma Reaney, the American Record holder in the 200 breaststroke. Notre Dame's former coach, Brian Barnes had to step away from the program at the beginning of the 2014-2015 season to focus on his family. This left the Irish in a tough spot. Luckily, former men's coach Tim Welsh was able to step in and serve as the interim coach for the season. Now that the team has stability again under Litzinger, I expect the team to do very well over the next few years.
---
Abbie Dolan's best times in yards:
50 Freestyle – 23.49
100 Freestyle – 49.49
200 Freestyle – 1:48.10
100 Butterfly – 55.42
200 IM – 2:03.01
Katie Rentz's best times in yards:
100 Butterfly – 56.14
200 Butterfly – 2:01.22
100 Breaststroke – 1:04.80
200 Breaststroke – 2:20.80
500 Freestyle – 5:02.11
---
Dolan swims for Blackline Aquatics in Minnesota and is entering  her senior year at Visitation High School.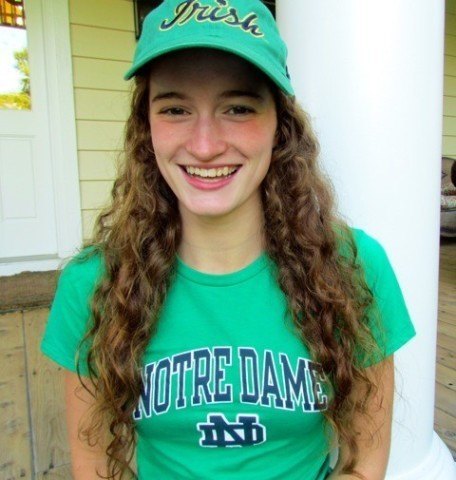 Rentz represents the Academy Bullets Swim Club in Illinois and will be completing her senior year at Rosary High School.