We've noticed that SwimSpray has recently sponsored a bunch of open water swims, including the Jim McDonnell Lake Swims, the Chris Green Lake Cable Swim, the Minnetonka Challenge, U.S. Masters 9+ Mile Open Water Championship, and The Tulsa Swim.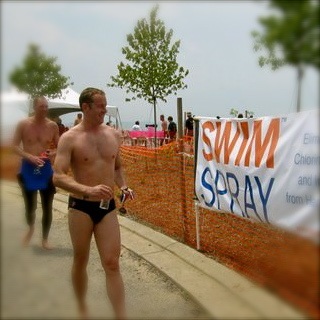 We asked SwimSpray about their the sudden interest in open water swimming?  SwimSpray's President, Andrew Chadeayne told us the back story.
ANDREW CHADEAYNE:
Aside from the obvious reason that open water swimming is awesome, our friends have recently rekindled their competitive itch.  About a month ago, I got into a bet with one of our supporters, Bern Ebersole, about this year's 4.4 mile Great Chesapeake Bay Swim.
Here's how it went down:  We were all watching the NCAAs on TV.  I saw Ricky Berens and Aaron Peirsol in the stands, routing for Texas and Ricky Berens and I had been chatting over Twitter because we've been sending him SwimSpray to alleviate his "chlorine burn" and how SwimSpray could help him.  (He liked it by the way: "Just got some SwimSpray in the mail. Who has tried this stuff? Helps my chlorine burn!")
In the 200 Breast, Princeton's Jon Christensen was racing defending champion Eric Friedland of Texas.
I started tweeting Ricky Berens about how Princeton was about to beat Texas in an event.  (That does not happen too often).  And Christensen delivered!  That's when NCAA adrenaline in the room went to work on those of us watching from the couch.
Several of us watching NCAAs are entered to swim the 4.4 mile Great Chesapeake Bay Swim on June 10th, 2012.   Our cheering at the TV morphed to some trash talking about our upcoming Bay Swim.  Bern Ebersole told me that he was going to "stomp my yard" at the Bay Swim.
Now, I don't know exactly what "yard stomping" means.  But, it sounded like a poke in the eye, so I figured it was a good opportunity to get into better shape and prove him wrong.
Bern graduated from Princeton in 2006, so he is 8 years closer to his college form.  On account of this age gap, he's offered to spot me 8 minutes in the contest.  Bern says that he's stepped up his training considerably and plans on winning the contest.
James Holder, Head Coach of the Georgetown Hoyas knows each swimmer well: Holder coached Bern at Princeton and swam alongside Andrew from 1997-2000: "These two guys are among the most competitive and determined people I know."
Holder would not make a call as to the overall outcome, pointing to factors in favor of either: "Bern has a bit more speed than Andrew, but I'd give the edge to Andrew in endurance."
Holder did predict that Bern would have trouble winning the contest by 8 minutes, "Yeah, that's probably not going to happen."
Princeton's head coach, C. Rob Orr probably summed the contest up most accurately, saying "you're both damn idiots."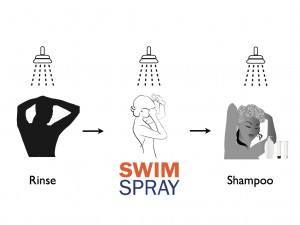 Dr. Andrew Chadeayne is a Ph.D in Chemistry, Master Swimming National Champion, and the inventor of SwimSpray. Follow him on Twitter @swimspray and fan him Facebook.