How does one girl stay on top of the swimming world for so long……she must be doing other things besides swimming.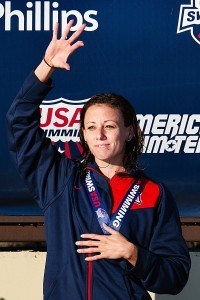 Watch as Lara Jackson gives us an insight on how cross training has helped her stay in peak physical condition. Sprinters need explosiveness, power, strength and a win-at-all-cost attitude. One of Lara's secret during her long workouts in the pool is using the Swim to Music platform to help motivate her. Not only does it create a blissful environment for the American Record Holder but it also helps to block out distractions. Swim To Music allows Lara to really focus on the important details such as tempo and pacing.
Since joining a fight gym, Lara has used the cross training to compliment her workouts in the water. Lara can beat you to the wall or use a left, right, uppercut, spinning heel kick to do it too. For Lara, it all came together in perfect melody as the music helped her timing by using the rhythm of the songs on her playlist while swimming. Gary Hall Jr. was once quoted "If you can't beat 'em in the pool, beat 'em in the parking lot." Lara is one of the kindest, most talented individuals we have come across. But watch out, she has an awesome punch and kick to her.
Follow up on www.SwimToMusic.com to see more of: 50-Yard American Record-Holder Lara Jackson, 2013 Bronze Medalist at the World Championships Felipe Lima and 2012 Brazilian Olympian Marcelo Chierighini.
From pacing in warm up to a video analysis after races, Swim to Music is the motivational platform that keeps you going from practice to performance.
Check daily as we announce more exciting news at www.SwimToMusic.com
Also check out some amazing content at:
Swim to Music sponsored Athletes:
Swim Training is courtesy of SwimToMusic, a SwimSwam partner.