Disclaimer: BlueSeventy Swim of the Week is not meant to be a conclusive selection of the best overall swim of the week. The BlueSeventy Swim is an opportunity to take a closer look at the context of one of the many fast swims this week, perhaps a swim that slipped through the cracks some as others grabbed the headlines.
Last week marked the final round of Division I conference championships, with an outstanding team race and an American record highlighting the men's Pac-12.
Yet the eyes of American swimming were somehow more captivated by a set of unofficial time trials at a primarily age group meet half the country away. Why? The reason is one of only a handful of swimmers who could manage to captivate the entire sport while swimming events that don't officially count for anything: Michael Phelps.
Still serving a suspension after a DUI in 2014, Phelps joined his North Baltimore teammates at the American Short Course Championships in Austin, Texas, throwing down a number of exciting exhibition swims outside of the official sessions. Maybe most notable was his 1:40.84 in the 200 IM, which would have been the 7th-fastest in history if it were eligible for the record books.
The 200 IM is one of two events that seem like centerpieces of Phelps' comeback attempt, along with the 100 fly. But the IM might be the Olympic veteran's best chance of re-earning his way onto Team USA for the upcoming 2016 World Championships.
Phelps was bumped from the team after his suspension last fall, and his individual 100 fly spot given to Tim Phillips, who didn't make the team in any other events. Though USA Swimming has been having preliminary conversations about reinstating Phelps to the team for Worlds, having already added Phillips to the roster creates an uncomfortable situation. Dropping Phillips from the squad would probably create even more backlash on top of what USA Swimming will likely already face just for reversing their original punishment of Phelps.
But the 200 IM seems a much more safe bet. Tyler Clary, who was added to that event to replace Phelps, has publicly said he'd give up his spot, noting that Phelps has a better chance to win a medal than he does.
With that in mind, it was huge to see Phelps swim so well in the IM this weekend, erasing any doubt that his suspension-induced layoff from competition would leave him with significant rust.
Probably even more exciting than the time itself is seeing how the race looked. You can watch race video captured on deck here. It's a bit strange to see Phelps competing in short course, something he really never did much during his professional career; he makes the pool look small. But it's also worth noting that Phelps' stroke still looks clearly tailored to long course swimming.
There are times the wall seems to come up on him a little too quickly, and his turns are crisp without being really lightning-fast like a typical short course specialist. Watching the race, you almost feel like Phelps' biggest challenge during it is having to redirect his momentum so many times in quick succession.
Those are all good signs for his aptitude in the long course pool, which allows a swimmer double the distance to build up momentum and decreases the amount of time a swimmer needs to spend below the surface.
Remember that the Phelps we saw last summer was hardly at his peak, conditioning-wise. There's no doubt that after spending now over a year back in Bob Bowman's intense, NBAC training program, Phelps is in much better overall condition than he was, which should bode well for longer races like the 200 IM.
Though there are plenty of differing opinions on whether USA Swimming's original punishment of Phelps was fair, and whether he should be reinstated to the Worlds team, there's one thing swimming fans can all agree on: it's a much more fun sport to follow when Phelps is grabbing headlines for what he does well – namely, swimming fast – than when he's garnering media mentions for what he doesn't.
Aptly named to suggest 70% of the earth is covered in water, blueseventy is the world leader in the pool, triathlon and open water wetsuits and swimskins. Since 1993, we design, test, refine and craft products using superior materials and revolutionary details that equate to comfort, freedom from restriction and ultimately a competitive advantage in the water. blueseventy products have instilled confidence in beginners as well as carried world-class athletes to countless Olympic and World victories.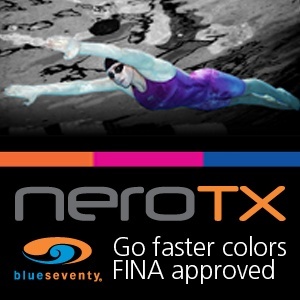 For the latest news and blogs from blueseventy visit www.blueseventy.com.
Twitter: @blueseventy 
Facebook: facebook.com/blueseventy
 Blueseventy is a SwimSwam partner.