Bimini Sands Resort & Marina and its on-site dive operation, Neal Watson's Bimini Scuba Center, are proud to announce they will host the inaugural Shark Showdown Film & Video Week early next year. An exciting underwater cinematography competition & workshop focused on filming these apex predators in their element, Shark Showdown is scheduled for January 25-February 1st, 2014. The event will bring underwater film legends Howard and Michele Hall, along with the Gates Underwater Products team, "Dive God" Neal Watson and other experts to Bimini in the Bahamas for a week of sun, sharks and shooting.
A second competition, Shark Showdown Photo Week, will take place at Bimini Sands on Feb. 22-March 1, 2014 (details to be released soon)!
Shark Showdown Film & Video Week's all-inclusive adventure will feature incredible shark diving and filming, encounters with wild dolphins and stingrays, daily professional underwater film & video workshops, one-on-one tutorials, all meals & beverages including the Welcome Dinner and Awards Banquet, and water-view condo accommodations with Neal Watson's Bimini Scuba Center's 40-foot custom dive boat at your doorstep. Participants will submit their Shark Showdown films or videos at the end of the week to compete for amazing prizes including gear from Oceanic/Aeris, Pelican, Shark Armor, Pascale Painter of the Blue, and a Weekend Getaway with airfare and diving at Bimini Sands Resort & Marina.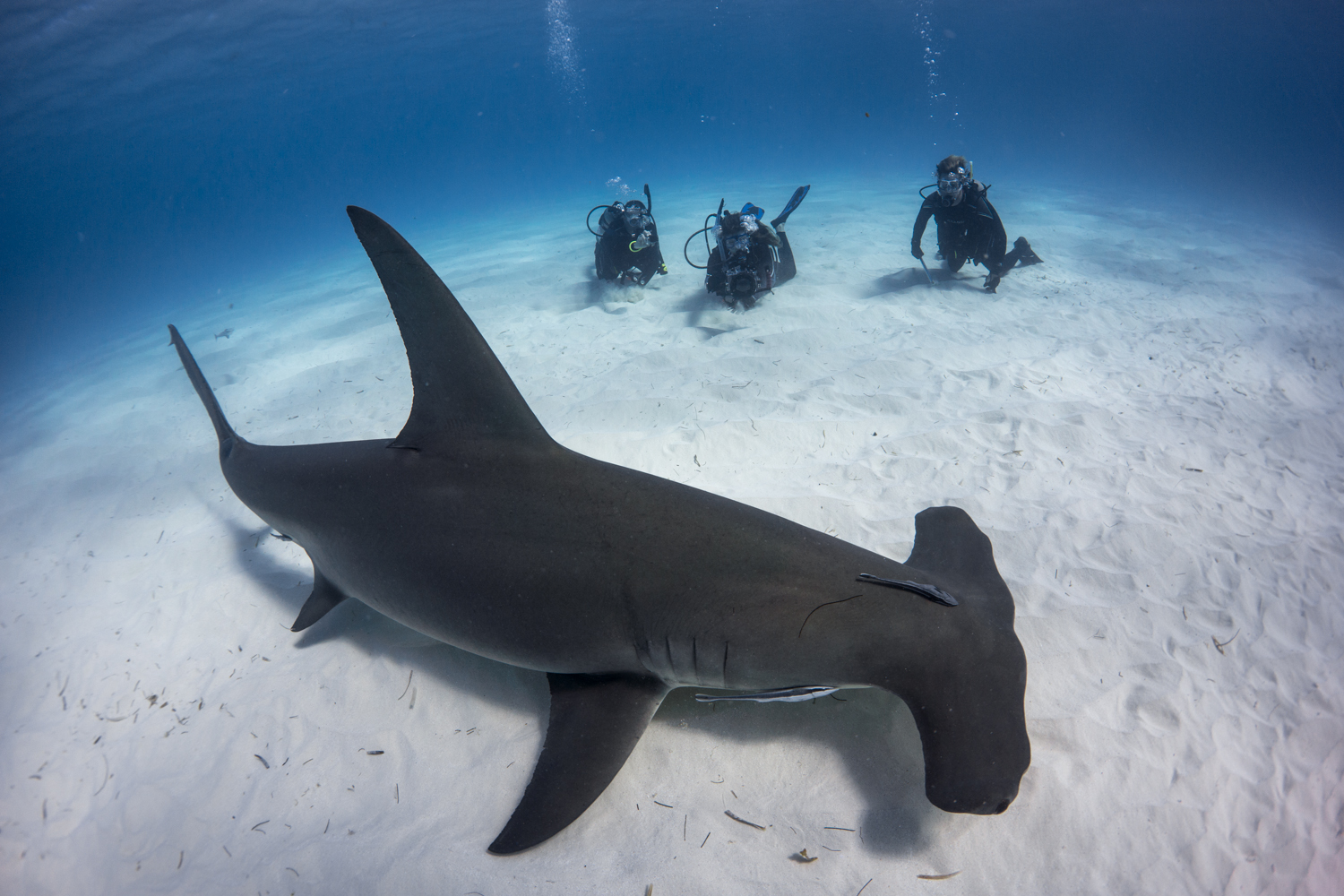 Bimini has been at the forefront of shark science and conservation for decades thanks to the world-renowned Bimini Biological Field Station ("Sharklab"), located near Bimini Sands. The island is known for its diversity of underwater species, but this will mark Bimini's biggest media event dedicated solely to sharks. Part of the proceeds from Shark Showdown 2014 will go to local shark research and conservation efforts.
Established by world record-holding diver Neal Watson, the new Bimini Scuba Center has gained a growing reputation for guiding spectacular yet safe, cage-free Great Hammerhead shark encounters around Bimini, earning the nickname "Neal Watson's Hammer Headquarters". Each year, Great Hammerheads migrate through the crystal clear waters off Bimini and Neal Watson's Hammer Headquarters is the only local dive operation offering interactive encounters with these majestic creatures lead by the marine biologists who developed the site and have over a decade of experience diving there.
Judges for Shark Showdown 2014:
Howard Hall (Underwater filming legend)
Michele Hall (Underwater filming legend)
John Ellerbrock (President of Gates Underwater Products)
Duncan Brake (Emmy-nominated videographer & marine biologist)
Neal Watson ("Dive God" and world-record diver)
Grant Johnson (Local marine biologist and shark dive guide)
Come experience the Great Hammerheads of Bimini with marine biologists, shark experts and filming pros and sharpen your underwater cinematography skills. Enjoy condos steps from the beach, door-to-door dive service, and some of the best shark diving in the world. Space is limited to 12 divers, so be sure to book early before this incredible opportunity sells out. (Non-diving guests are also welcome.) For more information about Shark Showdown 2014, please call 1-800-737-1007 or 954-615-1011; email [email protected], or visitwww.biminiscubacenter.com and www.biminisands.com.
All-Inclusive Scuba Diving Packages with Neal Watson's Bimini Scuba Center are also available this fall and winter at Bimini Sands. For more information, email[email protected].
About Bimini Sands
Located just 50 miles from Miami on the Bahamas gateway island of South Bimini, this year-round resort features luxury one- and two-plus-bedroom villas with beach or marina views; a full-service "Shark-Free" marina accommodating boats up to 115 feet; three freshwater swimming pools, including an Infinity Pool overlooking the Gulf Stream; upscale dining—along with the island's only sushi bar—and a full suite of eco-adventure water-sports activities. Minutes from Bimini International Airport with service to the U.S. East Coast and Nassau, its idyllic location offers spectacular views of Bimini's luminous blue waters, sunsets over the Gulf Stream, coral reefs and a secluded ocean beach just steps from your door. Family-owned and operated for more than 15 years, Bimini Sands Resort & Marina is one of the Bahamas' best-rated family vacation destinations. For more information, visitwww.biminisands.com and www.biminiscubacenter.com.
This release was provided to swimswam courtesy of Bimini Sands Resort.