Courtesy of Anne Lepesant, a SwimSwam contributor:
Ivy League champion Princeton women's swimming and diving team showed their team spirit outside of the pool when it hosted the sixth annual Collegians For The Cure 5K Run last Saturday on the Princeton campus.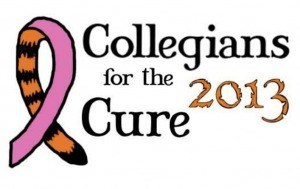 A beautiful fall morning brought out 268 students and members of the Princeton community to participate in the race. Several of Princeton's varsity teams took part, including Men's Swimming and Diving, Women's Squash, Women's Softball, Men's Lacrosse, Women's Lacrosse, Women's Water Polo, Men's Volleyball, and Men's Lightweight Crew. (Rumor has it the crew team were so fast they did the course twice.)
The event far surpassed the women's swimming & diving team's expectations as they nearly doubled last year's numbers, smashing their goal of $3,000 and raising over $4,200.
"For six years now the Women's Swimming and Diving Team has been hosting Collegians for the Cure 5k Run/Walk to raise money for Breast Cancer research. Collegians for the Cure gives us the opportunity to show support to the many Princeton Swimming and Diving teammates and alumni who have had their lives impacted by this disease. My teammates and I feel lucky to be part of a Princeton Swimming and Diving family that traditionally and consistently supports one another in and out of the pool. In addition to the support of our swimming family, we truly attribute the event's success to the Princeton Varsity Club and undergraduate community that stood beside us in our dedication to making a difference."
– Event Coordinator Julia Festa '14
Collegians for the Cure is one of the many events nationwide that raise money for The Breast Cancer Research Foundation ®, a 501 (c ) (3) organization dedicated to preventing breast cancer and finding a cure in our lifetime by funding clinical and translational research worldwide.