Update: Peter Hall of FINA says that they are working on a live streaming solution.
To the dismay of athletes, fans, families and swim enthusiasts everywhere, the 2015 FINA World Junior Championships will not be live streamed, according to the Singapore Swimming Association (SSA).  As host of the event, SSA has confirmed via Twitter that indeed the biggest global swimming stage specifically for athletes aged 14-17 (girls) and 15-18 (boys) will not be available to watch online, per below: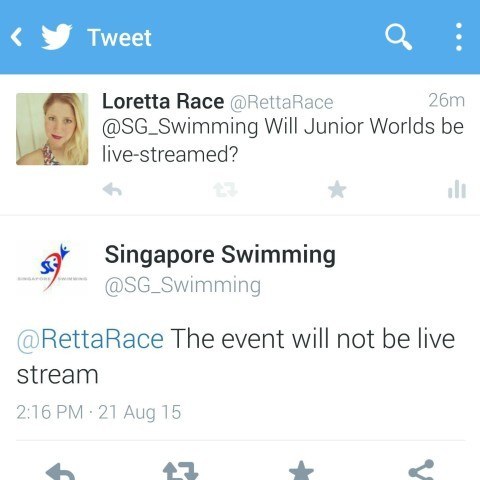 This is a bitter pill to swallow as viewership was available in one form or anther around the globe for FINA's Senior World Championships earlier this month.  In the U.S., for example, Universal/NBC broadcast more than 48 hours of total coverage of the event in Kazan, but most remote spectators were able to find a link to watch online as well.
Additionally, the inaugural European Games also had its own online feed from Baku, which gave viewers the opportunity to get acquainted with some of the young talent of the European nations, many of whom will now be competing in Singapore. That coverage, both in ease of use (through YouTube) and in quality has been widely applauded. The European Games is a "Ligue Europeenne De Natation" (LEN) or European Swimming League-held event, where the Senior and Junior World Championships are FINA-organized meets.
The meet will run from August 25th-30th.