The University of Florida No. 5-ranked men's and No. 3-ranked women's swimming & diving teams finish up its two-meet road swing, as the Gators are in Athens, Ga. on Friday (Oct. 31) to take on the Bulldogs in Georgia's Gabrielsen Natatorium at 11 a.m.
Florida's men have enjoyed great success over Georgia, as it has a record of 61-15-3 entering Friday's meet. Meanwhile, the Gator and Bulldog women have had an even split, as their all-time series is knotted up at, 14-14.
UF is a coming off a dual meet win over Kentucky where the Gators won a combined 22 of 32 events and defeated the Wildcats, 164-128 (men) and 161-137 (women). Florida improved to a combined 27-0 all-time against UK (M, 15-0, W, 12-0). In addition, UF registered three NCAA 'B' standard times throughout the dual meet.
FLORIDA AT GEORGIA | FLORIDA MEET NOTES | LIVE STATS
FRIDAY, OCTOBER 31 | GABRIELSEN NATATORIUM | 11:00 a.m. ET
· 2014-15 Georgia Dual Record: No. 2 Women, 4-0, 2-0 SEC | Men, 2-1, 1-0 SEC
· Series Record: Florida leads: W: 14-14 | M: 65-15-3
· Last Meeting: 2013 in Gainesville: W, 136-162 | M, 179-119
LAST MEETING
Florida's swimming & diving teams last met Georgia a season ago on Nov. 1, 2013, when the Gator men bested the Bulldogs, 179-119, while the women fell by a count of 162-136 in Gainesville, Fla.
Combined, UF's men and women tallied 21 NCAA qualifying times. Florida's men touched the wall first in 11 of 16 events and swept the diving and relay events, while the Gator women were lost despite winning nine of 16 events.
Head Coach Gregg Troy – TROY'S TALKING: 
"Tomorrow's meet should be a great opportunity for both the men and women to race some of the best athletes in the NCAA. This is a perfect time, being that it is the midpoint of the fall, to evaluate where we are."
AMONG THE NATION'S BEST
Following the Gators last two dual meets, Florida's men have had seven individuals record a combined 15 NCAA top-10 times across 12 events. For the women, UF has had four individuals record a combined 8 NCAA top-10 times across seven events.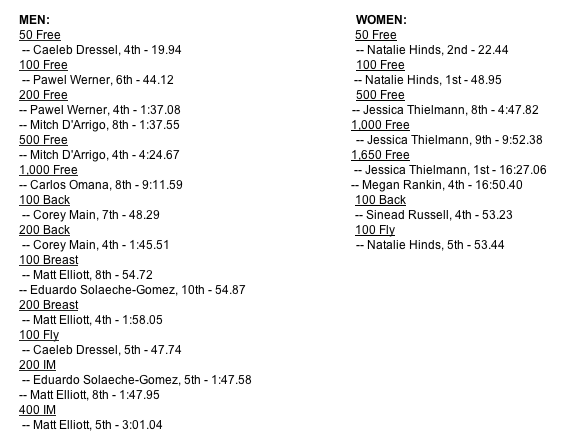 TOP RELAY'S
The Gators own the country's top times in the men's 800-yard freestyle relay (Dressel, Werner, Kaisrlik, D'Arrigo; 6:35.42) and the women's 200-yard free relay (Russell, Hinds, McKnight, Linn; 1:30.69).
RANKED
The Florida women's and men's swimming and diving teams are No. 3 and No. 5 in the initial College Swimming Coaches Association of America rankings, CSCAA officials announced on Oct. 23 and 30, respectively. Head Coach Gregg Troy's women are off to a 3-0 start, with Southeastern Conference victories over now-ranked No. 22 Arkansas, LSU and Kentucky. Meanwhile, the men are 2-0, with SEC wins over LSU and Kentucky.
26 AND COUNTING
Florida's men are unbeaten in the team's last 26 dual meets, as the Gators have posted a 25-0-1 recorded since it last fell to Auburn on Jan. 21, 2011, 167-133. The current streak includes a 150-150 tie against Georgia on October 20, 2011. That meet marked the first tie of Troy's career, and the Gators first since 1958 when Florida tied Florida State, 43-43.
The Gators men's squad has posted unbeaten seasons 19 times, including in 1930, 1935, for a six-year span from 1936-41, 1963, 1977, for three consecutive seasons 1979-1981, 1986, 1988, 2010, 2012 and most recently in 2013.
NEXT UP
Florida competes in its penultimate home meet of the season on Saturday, Nov. 8 at 11 a.m. when Minnesota comes to Gainesville. Both men's squads last met a season ago on Oct. 12, 2013 in Minneapolis, Minn., when Gators beat the Gophers, 172-124. Florida's women last competed against Minnesota on Oct. 13, 2007 in Minneapolis when UF won by a count of, 168-132.
College Swimming News courtesy of University of Florida Swimming and Diving.