PACE PAL® is excited to announce its new patent pending Variable Ballast Training Buoy & Hydration Carrier for open water & pool swimmers is now available at the introductory price of $39.00 plus shipping.  Pictured, below, this unique pull buoy includes a patent pending fastener system that allows full kicking from the hip; stays in place during long swims and high speed flip turns.  Open water swimmers can carry water, sports drinks and food in the two "PURIST" Water Bottles (top rack dishwasher safe) included.  The PACE PAL® Hybrid Buoy comes with attachable bright red warning device on the dorsal side of swimmer to alert boaters and jet-skiers.  Varying ballast with water provides great a teaching device for hip and leg posture.
This product is available by calling Larry Day at (810) 853-1159. 
You can like PACE PAL on Facebook here.
Follow PACE PAL on Twitter here.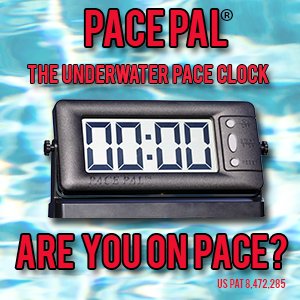 The "Pace Pal" underwater pace clock was designed and developed by a lifelong swimmer.  It's challenging to keep motivated and stay on pace in the pool each day.  The Pace Pal underwater pace clock was created to meet that need with it's high contrast LCD screen and highly visible BOLD DIGITS.  Naturally portable in nature, it weighs just over 3lbs and fits into exercise bags easily.  It's long life battery is also easy to replace if needed.
This is a press release submitted  by PACE PAL a SwimSwam partner