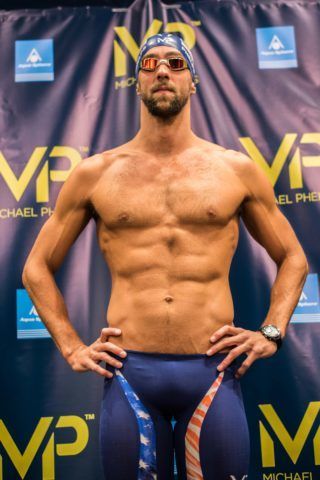 At the Mesa Pro Swim Michael Phelps got off to a sluggish start, not making the 200 free final. Racing in the banana heat, he pushed his horsepower and revealed a lot about where he is at in training.
200 free is painful, much harder than 200 fly. Phelps can rely on rhythm and technique in fly. He can't in 200 free. It's all drive from the legs, all high-gear-power for a high body-position in the water. Start to finish. Phelps, since 2008, has been striving for that elusive superhuman body-position he felt at the Beijing Games–his 1:42.  In Mesa, he felt it, in a small way.
Phelps split a sub 52 at the 100 meter mark in his 200m free.  Flipping in 51 point 9, at this point in the season, is huge. You can count on Phelps being out at the 100 in 50 point at the U.S. Olympic Swimming Trials (if he has to swim it there to seal his spot on the 4×200 relay).  In late June, I think flipping in 50 point at the 100 will be easy-speed for him.
Is he really considering 200m free as an individual race?  I don't think  so.  The Beijing Olympic 200m free was perfect, a work of art.  He doesn't need to do it again.  This Olympics for the Greatest Athlete of All-Time is about striving to deliver perfect performances in other events, 100 fly, 200 fly, and 200 IM.  Besides, he'll swim his 200 free flying from a relay start in Rio.
MP 200 FREE PREDICTIONS FOR THE REST OF THIS YEAR:
AUSTIN – EARLY JUNE: I'm conflicted. I wouldn't be surprised if he swims 200 free in 1:46.7, and I wouldn't be surprised if he didn't swim it at all.  On the other hand, he could swim it gunning for a 1:45, a time that "could" put him on the 2016 Olympic Games 4×200 relay.   Relay selection is up to Coach Bowman, the Men's Olympic Team Coach, and no one could or would question him putting Phelps in the lineup. (Thinking this through, 200 free could be very interesting with respect to Phelps and how he manages his schedule over the next 8 weeks.)
OLYMPIC TRIALS: In Omaha, in prelims, he's 1:44.9 if he blasts the race to the wall.  He could also clock a 1:45.7, backing off intensity, cruising into the wall, a swim fast enough to seal his spot on the relay.
OLYMPIC GAMES: With a flying relay start in Rio, he splits 1:43.4. Team USA wins the gold.
200 free is a tough call.  What do you think?  Share your wisdom!
You can follow Michael Phelps on Twitter here.
See Michael Phelps' MP HQ here.
RECENT EPISODES
This is a Gold Medal Media production presented by SwimOutlet.com. Host Gold Medal Mel Stewart is a 3-time Olympic medalist and the co-founder of SwimSwam.com, a Swimming News website.