Miguel Basalo and Miguel Madeira, both out of Metro Aquatic Club of Miami, have made verbal commitments to Marist College in Poughkeepsie, New York, for the 2015-16 season.
Basalo attends Belen Jesuit Preparatory School in Miami, Florida. He swam the 200 free and 500 free at the 2013 FHSAA Class 3A Swimming and Diving Championships. He will contest the same events at the 2014 3A Championship meet on Saturday, November 8th.
Primarily a distance freestyler, who gets better and better the longer he is in the water, Basalo's top times over the last two seasons have been:
1650y free: 16:27.04        1500m free: 16:39.31
1000y free: 9:52.30          800m free: 8:43.60
500y free: 4:45.37            400m free: 4:13.97
200y free: 1:45.49            200m free: 2:02.27
200y fly: 1:58.60                200m fly: 2:12.66
400y IM: 4:15.55               400m IM: 4:53.47
Basalo's 500 free time would have been just off qualifying for the top 16 at the 2014 MAAC Championships; eventual champions Rider College had five finalists. Basalo's 200 would have made the B-final and his 1000 and 1650 would have scored, too.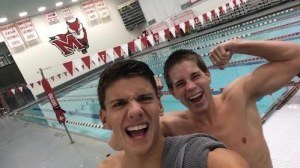 Madeira is a senior at Ronald W. Reagan / Doral Senior High School in Doral, Florida. He was a finalist in the 100 back at the 2013 FHSAA Class 3A Swimming and Diving Championships; he also contributed point to Reagan's 200 medley and 400 free relays. In the 2014 state meet on Friday, November 7th, Madeira is swimming 200 free and 100 back.
Madeira's best events and times include:
| | |
| --- | --- |
| 200y free: 1:43.29 | 200m free: 1:57.83 |
| 100y free: 48.60 | 100m free: 54.54 |
| 50y free: 22.14 | 50m free: 24.92 |
| 200y back: 1:54.18 | 200m back:2:16.34 |
| 100y back: 53.20 | 100m back: 1:03.55 |
| 50y back: 25.20 | 50m back: 29.27 |
Had Madeira been at 2014 MAAC Championships, he would have just barely missed out on the "A" final in the 200 free, but he'd have made it in the 200 back. His 100 back would have easily made the "B" finals.
Marist men's swimming and diving have finished second in the MAAC standings in each of the last two years, having spent the previous four on the third rung. Basalo and Madeira will be excellent additions to the Red Foxes' squad in 2015.