Olympic gold medalist and world-record holder Katie Ledecky was honored by the French newspaper L'Equipe on Friday as the women's international "Champion of Champions" for 2014 for her record-setting season.
"I am very honored to receive this award and international recognition from L'Equipe, and I'd like to thank its journalists for this prestigious accolade. I also would like to thank my family; my coach, Bruce Gemmell; my teammates on the Nation's Capital Swim Club and the USA National Team; and everyone at my high school, Stone Ridge School of the Sacred Heart, for all of their support in making this a wonderful year," Ledecky said. "I would also like to thank USA Swimming for all it does to make America's swim team the best swim team in the world."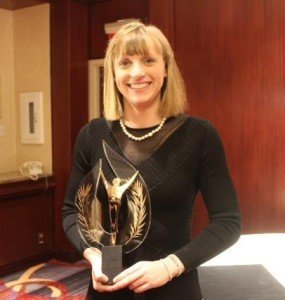 Ledecky was unable to attend Friday's live, televised award ceremony in Paris due to her school and training schedules. The presentation of Ledecky's award was filmed in New York last month prior to USA Swimming's Golden Goggle Awards.
She is the first swimmer to earn L'Equipe's international "Champion of Champions" award, which has been presented annually since 1980.
This year marked the third occasion that top male and female athletes were each honored, with tennis star Serena Williams earning the women's award in 2012 and 2013. Past winners of the award include the likes of Michael Jordan, Usain Bolt, Roger Federer and Lionel Messi. In addition to the international award, L'Equipe also honors France's top male and female athletes on an annual basis.
The 17-year-old Ledecky posted five world-record swims last summer. She set world records in the 400- and 1500-meter freestyle events on back-to-back nights at the 2014 Pan Pacific Championships, and in Australia became the first woman to win four individual gold medals at a single Pan Pacs, as she topped the podium in the 200m, 400m, 800m and 1500m free and added gold in the 800m free relay. At the 2014 Phillips 66 National Championships, Ledecky won titles in the 200m, 400m and 800m free. Earlier this month at the AT&T Winter National Championships, Ledecky won three events and set an American record in the 1650-yard free.
She was named USA Swimming's Athlete of the Year for the second straight year and won three Golden Goggle Awards, Female Athlete of the Year, Female Race of the Year and Relay Performance of the Year. Ledecky, a two-time USA Swimming Scholastic All-American, recently signed a National Letter of Intent to attend Stanford University.
French pole vaulter Renaud Lavillenie was honored as the men's international "Champion of Champions."
Swimming News is courtesy of USA Swimming.