Their rivals at Stanford may be hot this year, but Cal women's head coach Teri McKeever is about the only coach in the country likely not sweating too hard over what's happening at The Farm.
That's because McKeever has put together an unprecedented run of recruiting classes, including this year's which includes previous verbal commit Catherine Ladd, and now Cierra Runge, a member of the 2013-2014 Junior National Team. Runge announced her commitment via her Twitter account on Monday.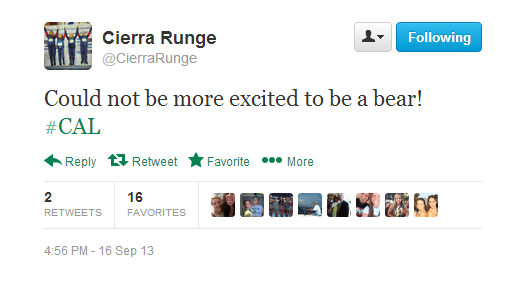 Runge, who qualified for the national team with a 55.16 in the 100 meter free at the World Junior Championships, comes from the North Baltimore Aquatic Club.
As that time in the long course 100 free indicates, Runge is primarily a freestyler. That time in the 100 free ranked her as the 18th fastest American in 2013 of any age.
Like most of Bob Bowman and Erik Posegay's elite NBAC crew, Runge hasn't done a ton in yards swimming, instead preferring to focus on long course. Her times, from NBAC's big Christmas short course meet, are still impressive: she's been 23.11 in the 50 yard free, 49.2 in the 100 yard free, 1:45.6 in the 200 yard free, and 4:43.3 in the 500 yard free.
In other races, she's also been a 55.3 in the 100 yard fly and a 1:59.9 in the 200 yard IM.
But Cal, while they have a lot of swimmers who have a ton of speed (Franklin, Bootsma) had just one scoring swim in an individual sprint free at NCAA's last year: freshman Rachael Acker taking 6th in the 100 yard free (48.29).
Between Runge and Ladd's additions, however, plus class of 2013 freshman Kristen Vredeveld, the future of Cal's freestyle group is looking notably brighter. She also will have the potential to compete for a spot on Cal's 800 free relay as a freshman (her time is competitive with those of Acker and Caroline Piehl from last year's NCAA's), and certainly should have one by the time she's a sophomore, when Piehl and Catherine Breed are both graduated.