The NFHS and NCAA Research released some numbers recently on trends in high school sports participation numbers that showed, despite some relatively minor blips, the number of swimmers competing at the high school level has remained largely steady over the past few years.
We charted 5-yr sport participation trends in high schools. Good or bad news for your sport?
(Data from @nfhs_org, does not include club) pic.twitter.com/jpZKuMD7KF

— NCAA Research (@NCAAResearch) March 10, 2017
As you can see in the chart above, boys numbers declined from 133,823 to 133,470 nationwide over the past five years.  That's a decrease of 353 in absolute numbers, and three-tenths of one percent in relative terms.  Girls swimming saw a 3.9% increase in high school participation over the same period, growing from 160,456 to 166,747.
The numbers above don't show the whole story, however, as we went back and took a closer look at the year-by-year participation.  Here are those numbers in chart form:
| | | |
| --- | --- | --- |
| | Boys | Girls |
| 2011 | 133,900 | 160,881 |
| 2012 | 133,823 | 160,456 |
| 2013 | 138,177 | 163,992 |
| 2014 | 138,373 | 166,779 |
| 2015 | 133,078 | 166,838 |
| 2016 | 133,470 | 166,747 |
And in visual form…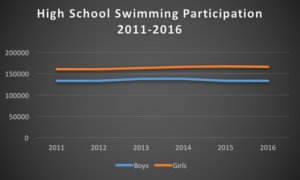 The data appears to show that both boys and girls swimming got a slight bump in the 2012-2013 season, presumably as a result of the 2012 London Olympics and the publicity of American stars like Michael Phelps and Missy Franklin.  The boys' numbers stayed at that higher lever for one additional season, before dropping back to roughly where they were in 2012.
Girls swimming, meanwhile, has seen its numbers stay virtually the same for three straight years.
The NFHS does not yet have data on sports participation for the 2016-2017 season, so it will be interesting to see if high school swimming participation once again got a small increase after Team USA's success in the Rio Olympics and the promotion of young stars like Katie Ledecky, Simone Manuel, Caeleb Dressel, Ryan Held, and the rest of Team USA.
Swimming's relatively even numbers stands in stark contrast to several other sports that saw drastic increases or decreases over the same timeframe.  Boys fencing, volleyball, and track and field, and girls rifle, lacrosse, and track and field, all increased participation by double digit percentages.  Boys skiing and gymnastics took double digit percent declines, while girls rowing lost a whopping 58% of its participants.
AB