Fort Lauderdale, May 19.   On Sunday, May 21, th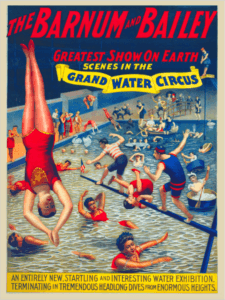 e most famous circus of all, Ringling Bros. and Barnum & Bailey, will end its 146-year run.  Believe it or not, one of the great circus' most popular attraction in the late nineteenth Century was a it's Grand Water Circus.  Staged in Madison Sq. Garden, at the Coney Island and in the big-top around the country, Barnum's water circus featured "tremendous headlong dives from Enormous Heights into Shallow Depths of Water and Daring Aquatic and Sub-Aqueous Feats by "the finely formed and graceful" Bernice Natta, "Champion Lady Swimmer of Australia." Other features of the tank were natives of the south seas "who take to the water like ducks, and remain under it so long that persons in the audience begin to wonder whether they will ever come to the surface again."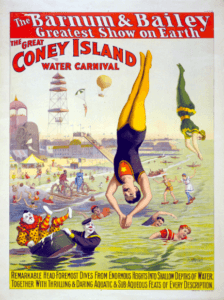 In a tribute to the great circus, ISHOF is making available three different 17 x 24 inch satin prints of the original Barnum & Bailey posters that were produced between 1895 and 1897, for a donation of $25, plus shipping.  
Prints can be ordered online at the ISHOF eStore,
http://ishof.org/shop.html#!/Barnum-&-Bailey-Water-Circus-Prints/c/23549001/offset=0&sort=normal
Or, for custom sizes, call Laurie Marchwinski at  954462-6536, ext. 207.
News courtesy of International Swimming Hall of Fame.