This week's HardCore swim comes from Down Under, where the pool action has been heating up the past several weeks around the Australian Open Championships and the Australian Age Championships, still ongoing in Sydney.
One swimmer starred at both competitions, and though he showed that even at age 15 he could hold his own against the big dogs of Australian swimming, his HardCore swim came earlier this week in the age group competition.
Kyle Chalmers is looking more and more like the real-deal, up-and-coming star of Australian swimming every day. This week, he broke both sprint freestyle age records for the 15-year-old division with flying colors, taking down the 100 mark twice in the same day and leaving it at a blazing 49.68. (He also went 22.68 for the 50 free record the next night).
Of course, any discussion of rising Aussie freestylers wouldn't be complete without the name of the country's most recent swimming legend coming into the mix. It certainly doesn't hurt Chalmers' reputation that both records he broke previously belonged to five-time Olympic gold medalist Ian Thorpe. Between prelims and finals, Chalmers took over a half-second off the Thorpedo's 100 mark, inspiring plenty of speculation about just how fast the new sprinter on the block could wind up going.
You can read more about his record here, but one of the most impressive parts of Chalmers' swim was that he also went faster than the 16-year-olds' record. Though he can't officially add that record to his collection until he actually turns 16, Chalmers is faster now than Cameron McEvoy, himself an exciting young swimmer down under, went as a 16-year-old to set the mark. Chalmers and McEvoy could very likely turn out to be relay teammates at the next Olympic Games, a promising and exciting youthful combo for a country that lives and breathes swimming.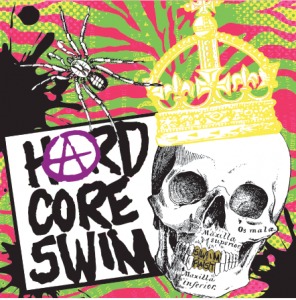 Founded on the pool decks of Southern California, HARDCORESWIM examines and explores the ethos of the hardcore swimmer. HARDCORESWIM is an authentic and innovative designer, marketer and manufacturer of premium quality men's and women's swimsuits, Custom Team Swim Suits, training gear, clothing, accessories and related products. Our true, authentic, innovative, iconoclastic, and creative style differentiates us from the bland competitive swim industry and gives us reason to be. All made in the USA. Check us out at www.hardcoreswim.com or find us at www.facebook.com/hardcoreswim .
Follow HardCoreSwim on Twitter here.