The USA Swimming Foundation announced today that four-time Olympic medalist, Madeline Jane "Maya" DiRado – Andrews (San Francisco, Calif.) has joined its Board of Directors.
"It is our honor to have Olympic gold medalist Maya DiRado joining the USA Swimming Foundation Board of Directors," USA Swimming Foundation Executive Director Debbie Hesse stated. "Maya's passion for swimming accompanied with her enthusiasm to promote learn to swim and water safety through the Make A Splash initiative, make her a true asset to the Board of Directors."
Born in Santa Rosa, Calif., DiRado learned to swim at the very young age of six. A three-time California high school state champion in the 200-yard individual medley, she went on to attend and swim for Stanford University, winning NCAA titles in the 200y and 400y IM. In 2014, DiRado graduated with a degree in Management Science and Engineering.
At the 2016 Olympic Games in Rio de Janeiro, DiRado, who is a first-generation Argentinian-American, won her first gold medal in the women's 4×200-meter freestyle relay and closed her Olympic Games performance with a memorable, come-from-behind gold medal in the women's 200m backstroke. She added silver in the women's 400m IM and bronze in the women's 200m IM in Rio.
"The Foundation's key mission to 'save lives and build champions,' both in and out of the water spoke to me," DiRado said. "I am proud join its Board of Directors and look forward to expanding it reach. You are never too young to learn about the importance of learning how to swim. Everyone should have an equal opportunity as well as accessibility to learning this life-saving skill."
About USA Swimming
As the National Governing Body for the sport of swimming in the United States, USA Swimming is a 400,000-member service organization that promotes the culture of swimming by creating opportunities for swimmers and coaches of all backgrounds to participate and advance in the sport through clubs, events and education. Our membership is comprised of swimmers from the age group level to the Olympic Team, as well as coaches and volunteers. USA Swimming is responsible for selecting and training teams for international competition including the Olympic Games, and strives to serve the sport through its core objectives: Build the base, Promote the sport, Achieve competitive success. For more information, visit www.usaswimming.org.
About the USA Swimming Foundation
The USA Swimming Foundation serves as the philanthropic arm of USA Swimming.  Established in 2004, the Foundation works to strengthen the sport by saving lives and building champions— in the pool and in life. Whether we're equipping our children with the life-saving skill of learn-to-swim through our Make a Splash initiative, or providing financial support to our heroes on the U.S. National Team, the USA Swimming Foundation aims to provide the wonderful experience of swimming to kids at all levels across the country. To learn more, visitwww.usaswimmingfoundation.org.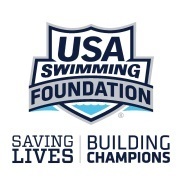 Swimming news is courtesy of the USA Swimming Foundation