For more commitment articles, be sure to check out SwimSwam's College Recruiting channel.
Bolles' Dakota Mahaffey has verbally committed to the University of Florida for next fall. He swims for Clay High School (notably, current Florida swimmers Caeleb Dressel and Grady Heath also trained with Bolles but studied at Clay) and won the FHSAA 2A 100 back title this past season. He also placed 4th in the 200 IM, was the quickest lead-off leg at that meet in the medley relay on Clay's 3rd place relay, and split a 45.87 anchoring their 3rd place 400 free relay.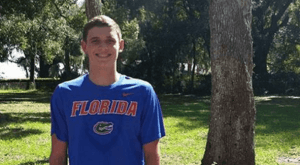 Mahaffey's Top Times (SCY/LCM)
50 back – 22.73/26.87
100 back – 48.82/57.64
200 back – 1:47.97/2:05.76
200 free – 1:39.73/1:55.53
200 IM – 1:52.04/2:12.10
Mahaffey has Winter Nationals cuts in SCY and LCM across both Olympic backstroke distances, and he's a Winter Juniors qualifier in the 200 free (SCY and LCM) and the 200y IM.
Florida was ridiculously deep in the 200 backstroke last year, and Mahaffey wouldn't have cracked their top 10 with his time right now. However, they were much thinner in the 100 back, and he'd have been their #6 guy last season.
Mahaffey's only about a half second off of what it took to make the SEC C final in the 100 back, and he's a little over two seconds off of the C final cut-off in the 200 back last year. He's joining a big incoming class for Florida, which has an abundance of talented backstrokers. That class consists of Maxime Rooney, Chandler Bray,  Drew Clark,  Marco Guarente, Tyler Silver, Taylor Delk, Nazareno Boscaino, and Alex Farrow.
If you have a commitment to report, please send an email to [email protected]