This week, Conference USA honored Kyna Pereira of Florida International University as the Swimmer of the Week. They also chose two divers to be the Co-Divers of the Week: Megan Wolons of Marshall and Rebecca Quesnel of FIU. All three athletes are already season veterans to winning this honor.
Swimmer of the Week: Kyna Pereira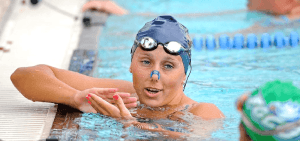 For her performance this past weekend against the Illinois Fighting Illini, Pereira has been recognized for the second time this season as the Swimmer of the Week. (She previously won the week of Oct 20). Pereira racked up first place finishes in four of the five events that she competed in this past weekend, three of which were in individual events. Pereira, who specializes in freestyle events, finished first in the 500 free (4:53.43) in a time that was good enough to rank her 46th in the nation for this season. She anchored the 400 free relay, closing the meet out with a win for her team. She also took first place in the 200 free (1:51.32) and 1000 free (10:24.58) this past weekend.
Co-Diver of the Week: Rebecca Quesnel
This is also the second honor this season for FIU's sophomore diver Rebecca Quesnel- like Pereira, she also won the week of Oct 20.
Quesnel was even more dominant this past weekend than her teammate was. She placed first in each event she competed in: one-meter, three-meter, and platform diving- scoring the maximum diving points available for her team.
Co-Diver of the Week: Megan Wolons
Wolons is no stranger to winning this award in C-USA. In fact, this is her third consecutive week being on top. This past weekend, the Junior re-broke her own two week old school record, placing with a score of 306.60- which was also good for the highest ranking Conference USA score up until this point in the season. This is the first time someone has won this honor three weeks in a row since 2013.