Today's FINIS Set of the Week comes from Jill Dahle.  She is the Global Director of Sales and Marketing at FINIS and has been with the company for over three years.  She is a former swimmer at Loyola Marymount University.  Jill is a very active athlete in her post-collegiate career as she just recently completed her first Ironman race and swims on a Masters team in Oakland, California.  
This is one of my favorite sets to do during my hardcore training.  And I mean those training days where you are looking to get that heart-rate up, pound the legs and walk away from practice really feeling like you left it all in the pool.
For me, those practices I'm talking about usually had a lot of anaerobic work, a ton of fast kicking and then some sculling to work out your arms.  The following set is done with my favorite paddle, the Iso paddle.  I love them because it really trains my triceps when I have them in the outside configuration, and then my pectorals and biceps when I wear them with the inside configuration. Check out this set below and let us know what you think:
(2 Rounds Of Entire Set Below)
Working Outside Isolation
1 x 75 Scull with Axis Buoy at ankles (optional)
1 x 75 (50 Scull, 25 Back)
1 x 75 (25 Scull, 50 Free)
1 x 125 Freestyle/Backstroke by 25s
Working Inside Isolation
1 x 75 Torpedo Scull (On back, feet first, scull with hands above head)
1 x 75 (50 Torpedo Scull, 25 Fly)
1 x 75 (25 Torpedo Scull, 50 Breast
1 x 125 Butterfly/Breaststroke by 25s
For more awesome workouts, visit FINIS' Training Tips & Workouts page today!
About FINIS, Inc.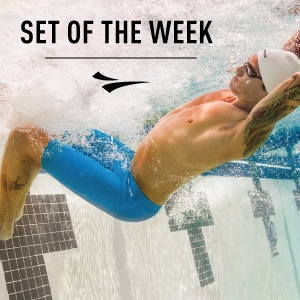 John Mix and Olympic Gold Medal swimmer Pablo Morales founded FINIS in Northern California in 1993 with a mission to simplify swimming for athletes, coaches, beginners and lifelong swimmers around the world. Today, FINIS fulfills that mission through innovation, high-quality products and a commitment to education. FINIS products are currently available in over 80 countries. With a focus on innovation and the fine details of swimming, FINIS will continue to develop products that help more people enjoy the water.
Press Release courtesy of FINIS, Inc., a SwimSwam partner.