Today's FINIS Set of the Week comes from Bryn Lewis, who currently works for FINIS as their Product Marketing Lead.  Bryn formerly swam for University of North Texas where she was a team record holder.  The butterflier swam under former coach Joe Dykstra, who now coaches at University of Utah.  
This was the primary test set that we did to evaluate where we were at in our training.  Not only did it serve as an evaluation of where we were physically, but it also was a great training set that helped us build endurance.  It easily was my most memorable workout from swimming at North Texas.
Warm Up:
5 x 200 1) Swim, 2) Kick with Alignment Board and Snorkel, 3) Drill, 4) Kick with Alignment Board and Snorkel, 5) Swim
Speed Play Work:
8 x 50 Swim best stroke other than freestyle
1) 25 easy, 25 fast
2) 25 fast, 25 easy
3) Easy
4) Fast
(REPEAT)
Test Set Time:
30 x 100 Swim, repeat this set of three 100's ten times (2:00 Interval)
1) Easy Freestyle
2) Easy Freestyle
3) SPRINT BEST STROKE OTHER THAN FREESTYLE (record time)
(REPEAT 10 TIMES)
Cool It Down and Recover:
8 x 25 Odds Freestyle, Evens Double-Arm Backstroke
300 Easy swimming, your choice
For more awesome workouts, visit FINIS' Training Tips & Workouts page today!
About FINIS, Inc.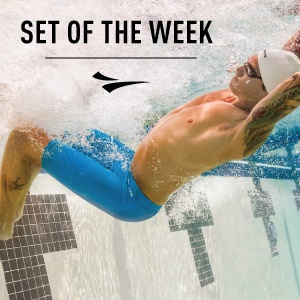 John Mix and Olympic Gold Medal swimmer Pablo Morales founded FINIS in Northern California in 1993 with a mission to simplify swimming for athletes, coaches, beginners and lifelong swimmers around the world. Today, FINIS fulfills that mission through innovation, high quality products and a commitment to education. FINIS products are currently available in over 80 countries. With a focus on innovation and the fine details of swimming, FINIS will continue to develop products that help more people enjoy the water.
News courtesy of FINIS.