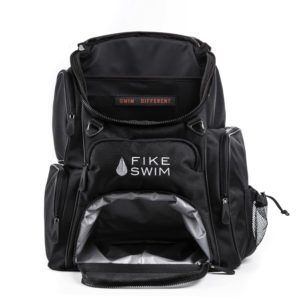 Just as it did to kickboards with its invention of The Brick, Fike Swim is challenging the status quo in backpacks with its latest design The SWAG. After nearly a year of designing and then testing and perfecting six prototypes, the company feels it has finally built a bag for swimmers' unique needs, offering the most storage in the most user-friendly way with the coolest features.
"This is the bag I wish I had as an age grouper and collegiate swimmer. It's everything we deserve but were never given, including the best fabric, zippers, stitching, and other components I could find. Towards the end I was literally making millimeter adjustments in features until everything felt perfect. We barely convinced the factory to produce it- they were so fed up with my changes," said Fike Swim CEO James Fike.
At 45 liters The SWAG is one of the largest swim backpacks and with a laundry list of features, many of which have never been offered before, including:
Brick-compatible padded laptop sleeve
Pockets!
Three large side panel pockets
Two large inner security pockets
Front panel accessory pocket
Large, ventilated, and waterproof wet swimsuit compartment
Four high-tension carabiners: two on front and two on the straps (perfect for meet tags)
Water bottle holder with drawstring
Durable, industrial-strength zippers
Easy-grip rubber tote handle
Breathable, sweat-reducing back panel and shoulder straps
You can check out The SWAG on the company's website www.FikeSwim.com and in its recently released commercial that celebrates Fike Swim's first anniversary. Fike Swim is currently taking pre-orders with an estimated ship date of July 12th. And customers who order now with promo code SWAG will receive 10% off their order of 1 Brick and 1 SWAG.
You can get the latest news, product updates, and videos by liking Fike Swim on Facebook and subscribing to their YouTube channel. And you can get a candid look at Fike Swim's journey to help swimmers SWIM DIFFERENT by following them on Instagram.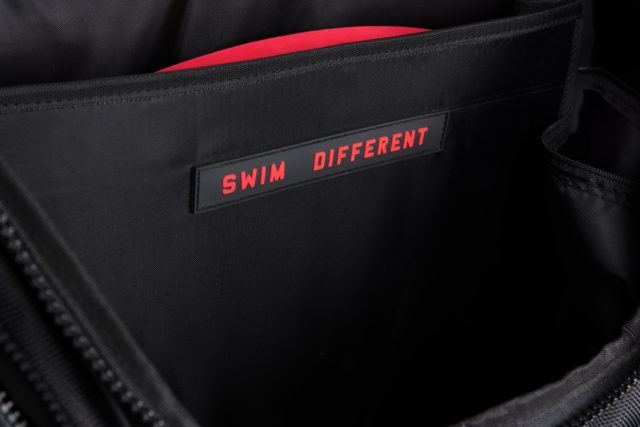 About Fike Swim
"We design products exclusively for the most difficult sport in the world.  We unapologetically place swimmers on a pedestal.  The rigors they embrace on a daily basis can only be understood by another swimmer and they deserve a company focused 100% on helping them succeed.  Whether you're just starting out or training for Rio, we stand behind you."
– James Fike, Founder
Fike Swim Products was born when founder James Fike put a brick on top of a kickboard and transformed just another legs-only kick set into a total body workout felt into the next day. Since then it's been our mission to create unique swim equipment with the single-minded goal of making you faster. We don't sell toys. We create tools to help you reach your potential.
About the Founder
James Fike has always had a passion for swimming. He started swimming competitively at age 5, ultimately training under Eddie Reese at The University of Texas from 1999-2003 where he had the privilege of swimming alongside some of the greatest swimmers in the history of the sport. James has continued swimming through all the phases of his life- from working as an investment banker, to getting his MBA back at UT, and back to working in corporate America. Finally, his passion for the sport led him to opening The Fort Worth Swim School, which teaches students of all ages and abilities and works to foster his same lifelong love for the sport.
Now, what started with a brick on a kickboard and a drive for always finding new ways to grow in the pool has become Fike Swim Products, a company dedicated to helping you Swim Different!